Tokyo, May 29, 2007 - Mitsubishi Heavy Industries, Ltd. (MHI) and Doosan Heavy Industries & Construction Co., Ltd. (Doosan), the largest company in Korea's heavy industry sector, have signed an agreement under which MHI will license production and sales of its large-size gas turbines to Doosan. The types of gas turbine to be licensed are M501G, MHI's most advanced model, and M701F, M501F and M701DA. Sales will be authorized for Korea's domestic market and part of the Middle East region. The first gas turbine manufactured by Doosan under licensing is expected to be shipped in the second half of fiscal 2009.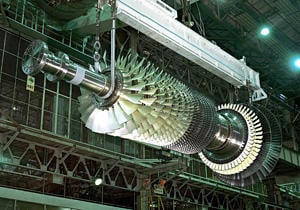 Along with the licensing agreement, the two companies also signed a long-term purchasing contract under which MHI will buy a designated number of gas and steam turbines from Doosan over the next several years. The orders will total approximately US$320 million.
Currently MHI is planning a large-scale investment in its Takasago Machinery Works, the company's core production plant for gas turbines, in order to boost in-house turbine production capability in anticipation of strong demand. The company also aims to further expand its gas turbine production capacity to meet sharp increases in demand expected in North America, Europe and Asia.
Earlier, MHI signed an agreement in 2002 to license large-size gas turbine technology to China's Dongfang Steam Turbine Works. The latest agreement with Doosan thereby paves the way for a Korea-China-Japan production structure for gas turbines based on MHI technology.
Doosan encompasses five business groups: Nuclear Power Plants, Thermal Power Plants, Desalination Plants, Casting & Forgings and Construction. Doosan is Korea's only turbine manufacturer. In 2006 the company recorded about 3,600 billion won (approximately US$3,800 million) in sales, with about 5,000 employees. The company accounts for the largest share in the global desalination plant market.
Recently MHI has received successive orders for gas turbine combined-cycle (GTCC) power generation plants from Korea Western Power Co., Ltd. and Korea District Heating Corporation. Korea is currently planning construction of a number of GTCC power plants. Going forward, MHI will continue to aggressively market its gas turbine power plants to the global market leveraging its expanding production capability, and through the collaboration with Doosan. With these moves, MHI looks to attract increased orders through further enhancement of marketing and production capacity.
---
About MHI Group
Mitsubishi Heavy Industries (MHI) Group is one of the world's leading industrial groups, spanning energy, smart infrastructure, industrial machinery, aerospace and defense. MHI Group combines cutting-edge technology with deep experience to deliver innovative, integrated solutions that help to realize a carbon neutral world, improve the quality of life and ensure a safer world. For more information, please visit www.mhi.com or follow our insights and stories on spectra.mhi.com.