MHI Receives Order for Large-scale FGD System from Spain
- Move by Electricity Provider Aims to Meet New EU Standards -
Tokyo, May 21, 2007 - Mitsubishi Heavy Industries, Ltd. (MHI), Mitsubishi Corporation and Duro Felguera, S.A., a leading Spanish heavy machinery manufacturer, have jointly received an order for a large-scale flue gas desulfurization (FGD) system from Iberdrola Generacion, SAU, a major Spanish electricity provider. Earlier, MHI had received a large-scale FGD system order from Iberdrola in June 2006. The latest order brings the total number of FGD units ordered to MHI by Spain to ten.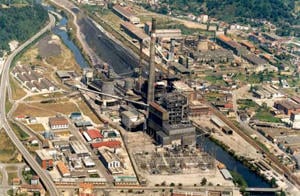 The FGD system on order, slated for delivery in July 2009, will be installed at Iberdrola's Lada power station in northern Spain. The system, which complies with new EU standards* for flue gas set to go into force in 2008, will be used to remove SO2 (sulfur dioxide) from the flue gas - 1,300,000 Nm3 per hour - emitted from the power station's 350 MW (megawatt) coal-fired boiler system. The desulfurization efficiency will be around 96%.
Under the full-turnkey contract, which includes construction work, MHI will be responsible for the basic design and supply of major system components. Duro Felguera will perform the detailed design work, civil and installation works as well as supply the peripheral equipment.
MHI's FGD system features the company's Double Contact Flow Scrubber (DCFS)** technology enabling superlative desulfurization capacity. Besides this outstanding performance, MHI believes the high evaluation accorded to its FGD systems for Iberdrola's No.2 coal-fired power generation unit at the Velilla power station and the proven operational record of its various FGD systems previously delivered to Spain also contributed to its winning the latest order.
Amid the enforcement of stricter environmental protection regulations worldwide, tighter SO2 emission control standards are currently being sought in the EU, as also in the U.S. and China. At the same time, the global market for FGD installations is expanding greatly, resulting in a sharp increase in demand for higher desulfurization capacity. In recognition of this trend and on the strength of the latest order, MHI will continue aggressive marketing of its FGD systems globally as it pursues further system refinements.
Notes:
| | |
| --- | --- |
| * | The new EU regulations are expected to include a clause requiring existing facilities to reduce their SO2 emission level to 400mg/Nm3 (200mgNm3 for new facilities), half the earlier requirement. |
| | |
| ** | In the DCFS system, limestone slurry, a liquid absorbent of SO2, is evenly distributed throughout the absorber from spray nozzles installed at the bottom, in contrast to conventional grid tower systems in which slurry is sprayed from the top. As a result, the slurry contacts with the flue gas twice: first when sprayed upward and second upon its descent. The increased slurry and flue gas contact provides greater desulfurization capability. The DCFS system features higher desulfurization efficiency and a simpler configuration than the conventional system. |
---
About MHI Group
Mitsubishi Heavy Industries (MHI) Group is one of the world's leading industrial groups, spanning energy, smart infrastructure, industrial machinery, aerospace and defense. MHI Group combines cutting-edge technology with deep experience to deliver innovative, integrated solutions that help to realize a carbon neutral world, improve the quality of life and ensure a safer world. For more information, please visit www.mhi.com or follow our insights and stories on spectra.mhi.com.