Tokyo, May 14, 2007 - Mitsubishi Heavy Industries, Ltd. (MHI) has shipped the first composite-material wing box for the next-generation super-efficient Boeing 787 Dreamliner. The shipment, completed on May 14 from the Oye Plant of MHI's Nagoya Aerospace Systems Works in Nagoya Prefecture, marks the first time composite material is being used in 30-meter- long wing boxes for jetliners. The first wing box was transported by ship from the pier adjoining the plant to Central Japan International Airport (Centrair) to fly to the Boeing Everett Plant in Washington by Dreamlifter, a special cargo airplane dedicated to transporting 787 components. At the Oye Plant, a ceremony was held on May 13 to commemorate the initial shipment.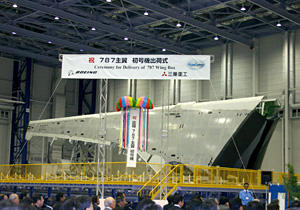 The Boeing 787 Dreamliner, a mid-size airplane approximately 57 meters long, 17 meters high and with a wingspan of 60 meters, will carry 210-250 passengers (standard specifications). In developing the 787, Boeing is setting new standards in the history of commercial aviation with the introduction of revolutionary design and manufacturing methods, the adoption of advanced materials, and the establishment of new collaborative relationships with partner companies. Japanese companies' share in airframe production under the program has now reached 35%, the highest ratio ever in commercial airplane production programs between Boeing and Japanese firms. MHI is responsible for manufacture of the composite-material wing boxes. This is the first time a major aircraft manufacturer has selected a partner to produce its wing boxes.
To produce the wing boxes for Boeing, MHI constructed two new factories at its Nagoya Aerospace Systems Works: a composite-material fabrication factory to undertake forming of composite-material parts for the wing boxes, and an assembly factory to build the wing boxes. The new facilities were launched in June and September 2006, respectively. The fabrication factory features one of the world's largest autoclaves. MHI has also completed construction, in April 2006, of a factory to manufacture composite-material skin stringers, one of the reinforcement components for the 787 wing boxes, at its Shimonoseki Shipyard and Machinery Works in Yamaguchi Prefecture.
The composite material used for the wing boxes is carbon fiber reinforced plastic (CFRP). CFRP is superior in strength, rigidity and corrosive resistance compared with conventional aluminum or titanium alloys. According to Boeing, lighter airframes enabled by the adoption of composite material, in combination with newly developing engines and an airplane design achieving minimal drag based on today's most advanced aerodynamics, will provide 20% improvement in fuel efficiency and 30% reduction in maintenance costs compared with conventional aircraft.
The 787 program is making steady progress toward its targets of a first flight in 2007 and entry into service in 2008. Buoyed by the successful shipment of the first wing box, MHI will now proceed forward with its work on the wing boxes of the 787, an aircraft that is expected to attract numerous orders over a lengthy period of time. In the process, MHI will achieve unequalled technological expertise in the design and manufacture of large-scale composite-material wings, thereby consolidating its position as a global center of aircraft wing production.
---
About MHI Group
Mitsubishi Heavy Industries (MHI) Group is one of the world's leading industrial groups, spanning energy, smart infrastructure, industrial machinery, aerospace and defense. MHI Group combines cutting-edge technology with deep experience to deliver innovative, integrated solutions that help to realize a carbon neutral world, improve the quality of life and ensure a safer world. For more information, please visit www.mhi.com or follow our insights and stories on spectra.mhi.com.