MHI to Enhance Production Structure at Takasago Machinery Works
To Increase Production of Nuclear Power Generation Application Turbines And G-type Gas-fired Turbines
Tokyo, May 14, 2007 - Mitsubishi Heavy Industries, Ltd. (MHI) will make two large-scale plant and equipment investments into its Takasago Machinery Works, the company's core plant for production of turbines used in power generation applications. One investment involves construction of a plant dedicated to production of steam turbines for nuclear power plants (NPP), aimed at further enhancing product quality. The other investment will focus on turbines for gas-fired power generation; the aim here is to shift the company's production structure to its higher-efficiency G-type turbines (M501G and M701G), for which orders are sharply increasing, from the F-type systems (M501F and M701F) currently at the center of the company's gas turbine production. The total investment amount will be approximately 25 billion yen.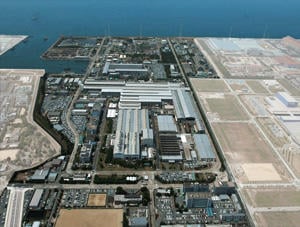 The new plant dedicated to NPP turbines will enable stringent quality control at each step in the production process through integrated processing and assembly of main components, such as rotors and forged blades. At the same time, MHI will realize expansion in production capacity through improvement in production efficiency. Plans also call for the plant to produce one of the world's largest high-efficiency turbines, with blades in the 70-inch class. The investment in NPP turbine production will span a three-year period beginning this year. With this initiative, MHI will establish a manufacturing structure by the end of fiscal year 2010 (March 2011) capable of accommodating NPP-use turbine needs for both replacement of existing equipment and installations in newly constructed plants in Japan and overseas.
Under the investment targeting higher G-type gas turbine production capacity, the production plant will be expanded to boost in-house production capacity of large components. Through introduction of a variety of today's most advanced processing equipment, including turbine casing processing machines, MHI will realize substantial shortening of work time and reduction in the number of processes through integral streamlining of production lines. Equipment installation is scheduled to be completed in fiscal 2009. Through this initiative, the plant will become able to produce more G-type gas turbines than before within its 30 units-per-year gas turbine production capacity.
NPP-use turbines are a key component of nuclear power generation facilities. To date, MHI has supplied turbines to all 23 pressurized water reactor (PWR) NPPs in operation in Japan, and recently the company also exported to Slovenia. In total, MHI has manufactured NPP-use turbines equivalent to more than 20,000 MWe in terms of power output.
MHI's G-type gas turbines offer one of the world's largest power generation capacities and highest levels of efficiency, with a turbine inlet temperature in the 1,500°C class (approx. 2,732°F). They also realize large power output and high efficiency through integration of today's most advanced technologies in aerodynamics, cooling design and heat-resistant materials, and they achieve ultra-low NOx (nitrogen oxide) emissions through adoption of a steam-cooled combustor. To date, MHI has received orders for more than 50 units of its G-type gas turbines from the domestic and overseas markets combined.
Through the latest investment initiative, MHI will promote enhancement of its product quality and the performance of its NPP-use and gas turbines. At the same time, the company also aims to further strengthen its price competitiveness and conduct aggressive marketing activities in Japan and abroad.
---
About MHI Group
Mitsubishi Heavy Industries (MHI) Group is one of the world's leading industrial groups, spanning energy, smart infrastructure, industrial machinery, aerospace and defense. MHI Group combines cutting-edge technology with deep experience to deliver innovative, integrated solutions that help to realize a carbon neutral world, improve the quality of life and ensure a safer world. For more information, please visit www.mhi.com or follow our insights and stories on spectra.mhi.com.