MHI Receives Order for 9 High-Performance Centrifugal Chillers
From Hynix Semiconductor of Korea, Marking 19 Units in Total
Tokyo, April 25, 2007 - Mitsubishi Heavy Industries, Ltd. (MHI) has received an order for nine centrifugal liquid chillers from Hynix Semiconductor Inc., a major semiconductor manufacturer in Korea. The chillers will be installed in semiconductor production lines being newly added at Hynix's Icheon Plant for use in air-conditioning its clean rooms. MHI previously received two orders for high-efficiency chillers from Hynix, 10 units in total, and the latest order will bring the collective number of units ordered by Hynix to 19. Delivery of the chillers is slated for completion by August this year.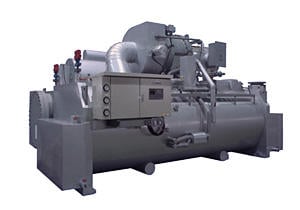 The nine centrifugal liquid chillers on order consist of five units with a cooling capacity of 1,600 RT (refrigeration tons*) each, and four units with a 1,000 RT cooling capacity each. These high-performance chillers address environmental concerns by adopting HFC-134a chlorine-free zero ozone depletion potential (ODP) refrigerant as well as reducing CO2 emissions through their high-efficiency and energy-saving features. A microcomputer control system with color TFT liquid crystal display (LCD) enables meticulous and optimized operation management. MHI believes the high evaluation accorded to the outstanding performance of its chillers and the proven operational record of the units previously delivered to Hynix contributed to its winning the latest order.
Hynix Semiconductor is the eighth-largest semiconductor manufacturer worldwide (2006). Through its merger with LG Semiconductor in 1999, the company today boasts the world's largest DRAM (dynamic random access memory) production capacity. Hynix has recently established a structure for mass-producing 80 nm (nm: nanometer = 1/1,000,000,000 meter) NAND-type flash memories, which are widely used as data storage devices for digital still cameras, mobile phones and portable music players. In 2006, Hynix recorded the highest revenue (7,693 billion won) and net profit (2,055 billion won) in its history. The company now plans to further expand its production capacity by focusing on new growth areas. MHI is looking for its centrifugal liquid chillers to contribute to Hynix's sustained growth.
Hyundai Climate Control Co., Ltd., a Hyundai Group company that serves as sales agent for MHI's centrifugal liquid chillers in Korea, has strong business relationships with both Hynix and Hyundai Motor Company, and today it is actively conducting marketing activities to other Korean companies as well. This July, another unit of MHI's centrifugal liquid chillers with a 2,000 RT cooling capacity is scheduled for delivery to Siltron Inc., a silicon wafer manufacturer belonging to Korea's LG Group.
MHI is one of the world's leading manufacturers of centrifugal liquid chillers. It provides various chillers for applications involving building and plant air-conditioning, industrial processing, and district-level heating and cooling. To date the company has received orders from abroad for 160 units of its HFC-134a refrigerant type high-efficiency centrifugal liquid chillers. Gathering momentum from the latest order, MHI will now step up its marketing activities in Korea and other countries in the rapidly expanding East Asia region.
Notes: Refrigeration ton represents the refrigerating capacity for turning 1 ton of 0°C water into 0°C ice in 24 hours. 1 RT = 3,024 Kcal/hr.
---
About MHI Group
Mitsubishi Heavy Industries (MHI) Group is one of the world's leading industrial groups, spanning energy, smart infrastructure, industrial machinery, aerospace and defense. MHI Group combines cutting-edge technology with deep experience to deliver innovative, integrated solutions that help to realize a carbon neutral world, improve the quality of life and ensure a safer world. For more information, please visit www.mhi.com or follow our insights and stories on spectra.mhi.com.