MHI Machine Tool Launches the New MAF-E II Series of Table-type Horizontal Boring Mills
-- Thermal Deformation Control Provides Stability in High Processing Accuracy and Productivity --
・ Series incorporates thermostabilized columns and a spindle cooling mechanism, first model offers a 130mm boring spindle

・ Unveiling at the company's Machine Tool Fair, highlighting advantages in processing components such as core parts for industrial machinery
Tokyo, July 24, 2019 - Mitsubishi Heavy Industries Machine Tool Co., Ltd., a group company of Mitsubishi Heavy Industries, Ltd. (MHI) based in Ritto, Shiga Prefecture, has developed the new MAF-E II series of table-type horizontal boring mills (HBM) offering stability in high processing accuracy and productivity. The first in the series is the MAF130E II model with a 130mm boring spindle. To minimize any decline in processing accuracy from thermal displacement during continuous operation over long hours, the series utilizes thermostabilized columns to prevent deformation due to variations in temperature, and a boring spindle unit with an enhanced spindle cooling mechanism. In addition, the high-power, high-torque boring spindle provides improved productivity. The series will be showcased at the Machine Tool Fair, held at MHI Machine Tool's head office factory on July 25-26, marking the launch of full-fledged sales.
The MAF-E II series, while following the strengths of the MAF-E table-type HBM models launched in 2012, was developed to meet needs for more high-precision and high-efficiency processing of large components. In particular, considering the anticipated demand going forward for greater precision in core parts for industrial machinery and energy-related components, the capability of the MAF-E II series to suppress thermal deformation will provide an advantage.
Thermostabilized columns are columns into which a temperature control medium with a high specific heat capacity has been inserted, suppressing column deformation caused by fluctuations in the ambient temperature. The boring spindle cooling mechanism, by cooling the bearing housing and gear box, minimizes thermal displacement during spindle rotation. In addition, the spindle motor output 37kW and torque(cont./30min.) 2,953/3,643N.m (newton meters) is the highest in class, allowing for high cutting performance under a broad range of conditions. Further, the sliding surface utilizes a wide box guideway, providing greater rigidity, stable precision, and high productivity.
The MAF-E II series will be launched at the Machine Tool Fair, which will also feature a wide variety of the products offered by MHI Machine Tool, including large machining tools and precision processing machines, as well as the powder Directed Energy Deposition (DED)-type metal 3D additive manufacturing machine (metal 3D printer) and monitoring system. These machines offer optimal solutions to meet all types of processing needs.
MHI Machine Tool, building on the momentum from the market launch of the MAF130E II series, will propose a machining process in combination with the MVR series of double-column 5-face milling machines, aiming for manufacturing that contributes to the productivity of its clients.
Main Specifications of MAF130E II
Item / Model
1820
2022
2025
Boring spindle diameter
130mm
Spindle rotation speed
5–2,500 rotations per minute (min-1)
Spindle motor output
VAC30 / 37kW (continuous / 30 minutes rated)
Spindle torque
3,643Nm (continuous / 30 minutes rated)
Working table surface
1,800 x 2,000mm
2,000 x 2,200mm
2,000 x 2,500mm
Travel
Table
(X-axis, longitudinal)
3,000mm
Spindle head
(Y-axis, vertical)
2,300mm
Column
(Z-axis, crossfeed)
1,600mm
Boring spindle
(W-axis, extension)
800mm
Rapid traverse
X-,Y-, and Z-axes
15,000mm/min
W-axis
10,000mm/min
B-axis
500°/min
Cutting feed rate
1–10,000mm/min
Maximum table payload
20,000kg
Machine weight
45,000kg
45,500kg
46,000kg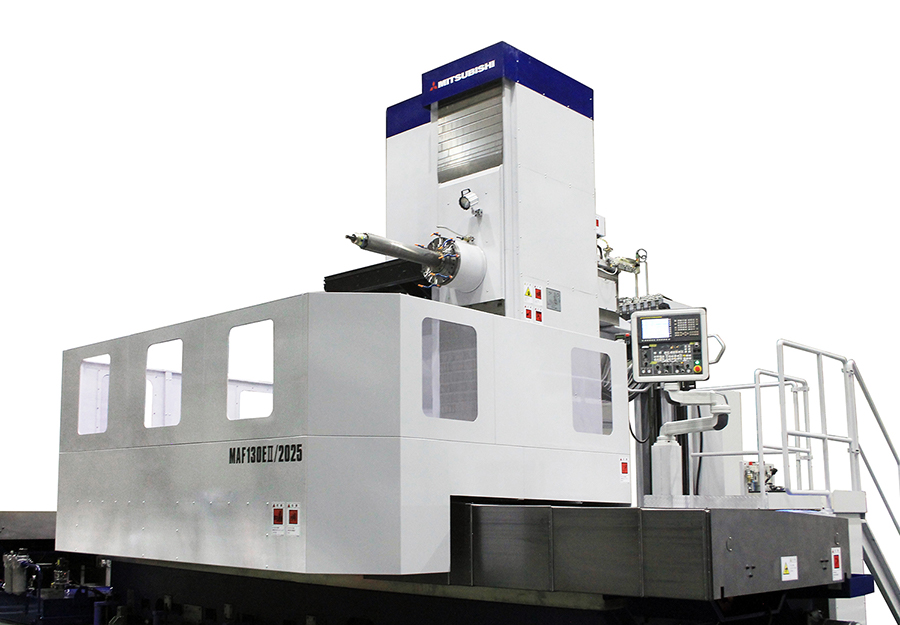 ---