MHI Completes Installation of CO2 Capture Unit at Nippon Ekitan's Mizushima Plant
-- Recovery Capacity of 283 Metric Tons per Day for New Liquefied Gas Production Facility --
・ Recovered CO2 from Mitsubishi Chemical Corporation's Mizushima Plant used to produce liquefied carbonic acid gas
・ Project delivered safely and on-schedule, highlights MHI capabilities
Tokyo, December 18, 2017 - Mitsubishi Heavy Industries, Ltd. (MHI) has completed installation of a carbon dioxide (CO2) capture unit at Nippon Ekitan Corporation's Mizushima Plant in Kurashiki, Okayama Prefecture. The new unit offers a recovery capacity of 283 metric tons per day (mtpd). It will capture CO2 from Mitsubishi Chemical Corporation's (MCC) Mizushima Plant, and feed it to Nippon Ekitan's new liquefied carbonic acid gas production facility.

MHI licensed its CO2 capture technology to Mitsubishi Chemical Engineering Corporation, which handles engineering, procurement and construction (EPC) of the new liquefied carbonic acid gas production facilities. MHI oversaw the basic design of the CO2 capture unit and supplied its core components.

Nippon Ekitan is a group company of Taiyo Nippon Sanso Corporation, which operates a carbonic acid gas business in Japan. The company mainly purchases high-concentration carbonic acid gas from petrochemical firms, ammonia manufacturers, and other producers, liquefies and refines it, and then markets it as liquefied carbonic acid gas and dry ice.

The Taiyo Nippon Sanso Group was integrated into the Mitsubishi Chemical Holdings Corporation Group in November 2014, and works in collaboration with the group's various business enterprises. This new liquefied carbonic acid gas production facility uses an absorption solvent to separate and capture CO2 from low-concentration carbonic acid gas from Mitsubishi Chemical's Mizushima Plant, where Nippon Ekitan's Mizushima Plant is located, to produce high-quality liquefied carbonic acid gas.

The liquefied carbonic acid gas facility will help to further ensure a stable supply of carbonic acid gas from Nippon Ekitan in the Chugoku and Shikoku regions, and Kansai area. MHI received a letter of appreciation from the company for completing the installation on schedule and with zero accidents, working in tandem with the ongoing plant construction.

MHI's CO2 capture technology, which utilizes the KM CDR Process™, uses an advanced absorption solvent (KS-1™) jointly developed with Kansai Electric Power Co., Inc. to achieve significant reductions in energy consumption compared with earlier methods. Since 1999 this technology has been adopted at 12 plants worldwide, capturing CO2 from the flue gas of boilers fired by coal or natural gas. This track record has made MHI the definitive global leader in the commercial application of CO2 capture units.

In addition to the production of liquefied carbonic acid gas and dry ice, MHI's CO2 capture technology can be employed for a wide range of uses, including chemical applications such as production of urea, methanol and dimethyl ether (DME), capture and storage of CO2 emitted by thermal power plants and other facilities, and enhanced oil recovery (EOR), a method of increasing crude oil production by injecting CO2 into oil reservoirs.

Going forward, MHI will continue to make contributions to sustainable economic development and environmental protection through proactive efforts to expand its advanced CO2 capture technology.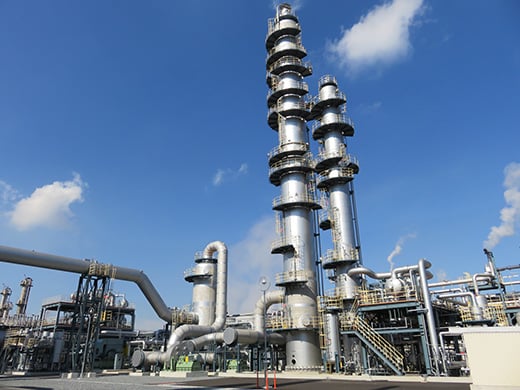 CO2 Capture Unit at Nippon Ekitan's Mizushima Plant
---
About MHI Group
Mitsubishi Heavy Industries (MHI) Group is one of the world's leading industrial groups, spanning energy, smart infrastructure, industrial machinery, aerospace and defense. MHI Group combines cutting-edge technology with deep experience to deliver innovative, integrated solutions that help to realize a carbon neutral world, improve the quality of life and ensure a safer world. For more information, please visit www.mhi.com or follow our insights and stories on spectra.mhi.com.