MHI Publishes Integrated "MHI Report 2017"
-- Concise Presentation of Summary of Management Reforms in Recent Years and Efforts toward ESG --
Tokyo, October 20, 2017 - Mitsubishi Heavy Industries, Ltd. (MHI) has published its "MHI Report 2017," an integrated report that focuses on presenting MHI's approach to value creation and progress in management reform to a wide range of stakeholders including shareholders and investors in a simple format. This is based on the company's ongoing strategic restructuring of its unique diversity of business, products and human resources that it has cultivated towards diversity that more closely meets the needs of society today in the rapidly changing global environment.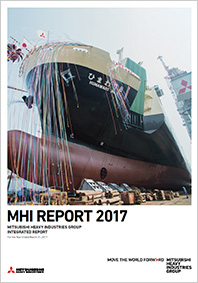 The report summarizes management reforms in recent years and MHI's vision for the future from the viewpoints of "Management Strategies," "Value Creation through Our Business," and "Corporate Governance" and includes messages from senior management.

In April this year MHI moved from its previous four domain structure to the three domain structure of "Power Systems," "Industry & Infrastructure," and "Aircraft, Defense & Space" with the aim of promoting group synergy and accelerating reform of the commercial aircraft and commercial ship business. In light of this, the report touches on the relationship between the business activities each domain handles and the aspects of ESG (Environment, Social, Governance) and discusses aiming for medium- to long-term growth while adapting to global society.

Moreover, in order to depict the real picture of MHI's efforts to evolve into a truly global company in a more multifaceted manner, the report also includes messages based on the experiences and specialized fields of individuals on how MHI is seen from the perspective of outside directors.

MHI will convey its value and direction to a wide range of stakeholders through the publication of this report, which covers both financial and non-financial information.
---