MHI-MS Licenses Manufacturing and Sale of Hose Handling Cranes and Container Ship Deck Cranes to Jiangsu Masada of China
Tokyo, September 4, 2017 - Mitsubishi Heavy Industries Mechatronics Systems, Ltd. (MHI-MS), a group company of Mitsubishi Heavy Industries, Ltd. (MHI), has concluded a licensing agreement with Jiangsu Masada Heavy Industries Co, Ltd., in Jiangsu Province, China, for the manufacturing and sale of hose handling cranes and slim deck cranes for container ships. The license granted to Jiangsu Masada follows similar agreements in 2008 for deck cranes of bulk carriers and in 2012 for deck machinery and steering gears1. This further broadening of Jiangsu Masada's product lineup will expand the market share for marine machinery utilizing MHI group technologies in China, the world's largest market for marine vessel construction.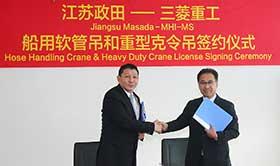 The hose handling cranes subject to this licensing agreement comprise three series, with hoisting loads of 10 tons, 15 tons, and 20 tons, which are fitted mainly on MR tankers2 and larger vessels. The license for the slim deck cranes for container ships is for the 45 tons series.

This licensing agreement will allow Jiangsu Masada to offer four products utilizing MHI group technologies-deck cranes, steering gears, deck machinery, and hose handling cranes. Along with the mainstay product of deck cranes for bulk carriers, the addition of hose handling cranes for tankers and deck cranes for container ships will allow Jiangsu Masada to meet a broad range of needs.

Jiangsu Masada was established in 2005 as a joint venture between Masada Ironworks Co., Ltd., a Japanese winch manufacturer based in Osaka, and Nantong Universal Machinery Co., Ltd., an industrial machinery manufacturer in Jiangsu, to produce marine deck equipment. Its head office is located in Nantong, Jiangsu Province. Since concluding licensing agreements with MHI for the transfer of businesses from group companies for deck cranes, deck machinery, and steering gears, Jiangsu Masada has steadily strengthened its production capacity and increased unit output. In 2019 the company plans to begin operations at new 245,000 square-meter production plant, part of a proactive strategy for further business expansion.

The hose handling cranes are mounted on oceangoing tankers carrying oil and other liquid cargo, and are used to control hoses when connecting the land-based transfer hoses to the vessel's tank. MHI manufactured its first unit in 1974, and has since established a solid track record with hose handling cranes, earning praise from customers for high reliability, durability, and exceptional responsiveness. The 45-ton slim deck crane is mounted on small container ships to offload containers on piers that lack crane facilities. The system is more compact than conventional deck cranes to allow space for the greatest number of containers.

Going forward, MHI-MS will maintain and develop its positive collaborative relationship with Jiangsu Masada, and conduct proactive marketing for marine machinery incorporating MHI group technologies.

Notes
1. Steering gears are handled by Mitsubishi Heavy Industries Marine Machinery & Equipment Co., Ltd. (MHI-MME), which granted the license to Jiangsu Masada.
2. Medium Range (MR) tankers of 25,000-54,999 tons deadweight (DWT)

Hose Handling Crane
---
About MHI Group
Mitsubishi Heavy Industries (MHI) Group is one of the world's leading industrial groups, spanning energy, smart infrastructure, industrial machinery, aerospace and defense. MHI Group combines cutting-edge technology with deep experience to deliver innovative, integrated solutions that help to realize a carbon neutral world, improve the quality of life and ensure a safer world. For more information, please visit www.mhi.com or follow our insights and stories on spectra.mhi.com.