MHI Develops Automatic Firefighting "Water Cannon Robot" and "Hose Extension Robot" Prototypes
-- Expected to Play an Active Role at the Scene of Fires where it is Difficult for Firefighters to Approach --
Tokyo, April 14, 2017 - Mitsubishi Heavy Industries, Ltd. (MHI) has developed prototypes of two firefighting robots: the "Water Cannon Robot" and the "Hose Extension Robot". They are expected to play an active role in situations where it is difficult for firefighters to approach, for example at fires in petrochemical facilities. The "Water Cannon Robot" can effectively extinguish fires where people cannot reach, while the "Hose Extension Robot" automatically lays out up to 300 m of fire hose to supply water to the "Water Cannon Robot". These two models constitute the "Firefighting Robot System", which works in conjunction with a reconnaissance robots and a command system. They are designed to be easily installed on a fire engine so they can be moved on-site.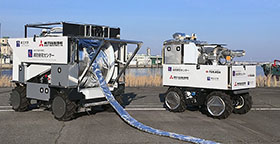 The "Firefighting Robot System" has been developed through participation in a project led by Japan's Fire and Disaster Management Agency, launched in FY2014 as part of its 5-year plan. A demonstration of the primary prototype robots that have been completed under the project took place today at the National Research Institute of Fire and Disaster in Tokyo, showcasing each robots unique capabilities and performance.

MHI's two robot models are built around small agricultural buggies, which provide robust suspension and high running performance. The robots can be autonomously controlled, and are equipped with GPS (Global Positioning System) and laser sensors mounted on their frames. They are also equipped with sophisticated technology that enables them to travel in tandem towards the source of a fire, with a fire hose connecting them.

The Water Cannon Robot has a nozzle for discharge of water or foam, and can discharge 4,000 liters per minute at a pressure of 1.0 MPa. The Hose Extension Robot can mount up to 300 m of fire hose with a 150 mm inner diameter (nominal diameter 150 A), and ensures proper laying by automatically paying out and winding in the rigid, heavy (2 kg/m) hose as required to match the robot's movement on the intended path including turning angles.
Main Specifications of Water Cannon Robot
Dimensions (External)
Length: 2,000 mm, Width: 1,400 mm, Height 2,200 mm
Weight
1,600 kg
Movement system
4-wheel drive front wheel steering system
Speed
7.2 km/h (2 m/sec)
Onboard sensors
RTK-GPS, LRF, IMU, Odometry
Functionality
Designed to autonomously move to a designated position on the map, assuming operation in a radiant heat environment of 20 kW/m2
Water and foam discharge for fire extinguishing and cooling (4,000 L/min at 1 MPa pressure)
Main Specifications of Hose Extension Robot

| | |
| --- | --- |
| Dimensions (External) | Length: 2,400 mm, Width: 1,800 mm, Height: 2,200 mm |
| Weight | 2,800 kg |
| Movement system | 4-wheel drive front wheel steering system |
| Speed | 7.2 km/h (2m/sec) |
| Onboard sensors | RTK-GPS, LRF, IMU, Odometry |
| Functionality | 150A hose extension laying 300m, autonomously moves to a designated position on the map |
---