MHI Thermal Systems Develops "GART-ZE/ZEI" Series as Next-Generation Large-Capacity Centrifugal Chillers Adopting Low-GWP Refrigerant
-- Achieving First Full Range of Refrigeration Capacities in Japan --
Tokyo, February 16, 2017 - Mitsubishi Heavy Industries Thermal Systems, Ltd., a Group company of Mitsubishi Heavy Industries, Ltd. (MHI), has developed new series of next-generation centrifugal chillers adopting the HFO-1234ze(E) refrigerant with extremely low environmental impact: zero ozone depletion and a global warning potential (GWP)1 below 1. The new "GART-ZE" (constant speed) and "GART-ZEI" (inverter) series, which feature capacities range from 300 to 5,000 refrigeration tons (RT)2, will be launched into the market in April. With the current available "ETI-Z" series of low-GWP small-capacity models, MHI Thermal Systems will become the first Japanese manufacturer to offer a full lineup of low-GWP refrigerant models in variations spanning from 150 to 5,000 RT.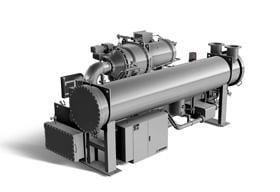 The new GART-ZE and GART-ZEI series succeed the high performance and compact advantages from the GART (constant speed) and GART-I (inverter) series marketed since 2014, which have won strong evaluation from various market. In the new series, high performance and environmental compatibility have been pursued through improvements to the heat exchanger and the shape of the compressor impeller blades compliant with the HFO-1234ze(E) refrigerant. Installation has also been eased by making component devices smaller and new arrangement of their layout. The coefficient of performance (COP)3 of the constant-speed 2,000RT model is 6.9, placing the new centrifugal chillers among the world's leaders in terms of energy-saving efficiency.

The HFO-1234ze(E) refrigerant's greenhouse-gas effect is minimal, on a par with carbon dioxide (CO2), with an ozone depletion potential (ODP) of zero. As a result, the refrigerant is not subject to Japan's Revised Fluorocarbons Recovery and Destruction Law4.

The adoption of the latest board in the new series' control panel has increased the speed of the central processing unit (CPU), resulting in more precise control and supporting energy-saving operation. As the operation panel is compact and independent from the control unit, it can be positioned for easiest operation for users according to the installation conditions of chillers. In addition, the liquid crystal display (LCD) is of the touch panel type, and an automatic indication appears on the display to inform the user when regular maintenance should be conducted to support periodical chiller maintenance requirements.

MHI Thermal Systems is Japan's leading manufacturer of centrifugal chillers, offerings wide variety of models including for district cooling and heating, for factory air-conditioning, etc. Going forward, the Company will continue to focus on developing high-performance products with low-GWP refrigerants, as its way of contributing to the protection of the global environment throughout the global market.

Notes
1) CO2 is assigned a GWP of 1. The lower the GWP factor, the less impact on the environment.
2) Refrigeration ton represents the refrigerating capacity for turning 2000 lb of 0°C water into 0°C ice in 24 hours. 1 RT = 3,024 Kcal/hr. RT ratings above 2,500 require parallel (two) compressors.
3) Coefficient of performance: The higher the value, the more energy-efficient. Calculated based on Air-Conditioning, Heating and Refrigeration Institute (AHRI) standards. COP = rated cooling capacity (kW) ÷ power consumption (kW).
4) This revised law, which took effect on April 1, 2015, stipulates rules for the rational use and proper management of fluorocarbons.
---
About MHI Group
Mitsubishi Heavy Industries (MHI) Group is one of the world's leading industrial groups, spanning energy, smart infrastructure, industrial machinery, aerospace and defense. MHI Group combines cutting-edge technology with deep experience to deliver innovative, integrated solutions that help to realize a carbon neutral world, improve the quality of life and ensure a safer world. For more information, please visit www.mhi.com or follow our insights and stories on spectra.mhi.com.