Tokyo, October 31, 2016 - Mitsubishi Heavy Industries, Ltd. (MHI) has acquired part of the shares of the J.League club Urawa Red Diamonds Co., Ltd. (Urawa Reds) held by Mitsubishi Motors Corporation (Mitsubishi Motors), and plans to become involved with the operations of the club, working together with Mitsubishi Motors.
The shares will be formally issued following approval from the J.League and the Urawa Reds Board of Directors.
1. Purpose of Acquisition
(1)

Urawa Reds was founded with the former MHI Soccer Group as its parent company and has been active since the establishment of the J.League. Based on this historical connection, MHI will provide as much support and cooperation as possible to further develop the Urawa Reds.

(2)

The MHI Group has strong expectations that supporting the future growth and development of Urawa Reds not only in Japan, but as a powerful club in Asia and the world, will contribute to raising its global recognition and brand strength.

(3)

MHI respects the philosophy of the J.League and will support the Urawa Reds while cooperating with all stakeholders, such as the local municipalities, companies and fans that support the club
2. Actual content of share acquisition
The shareholding ratio is MHI 60.8%, Mitsubishi Motors 39.2%. MHI and Mitsubishi Motors are to establish Diamond F.C. Partners, Co., Ltd. (provisional name, listed as "HD" below), and all Urawa Reds shares held by Mitsubishi Motors will be transferred to this entity.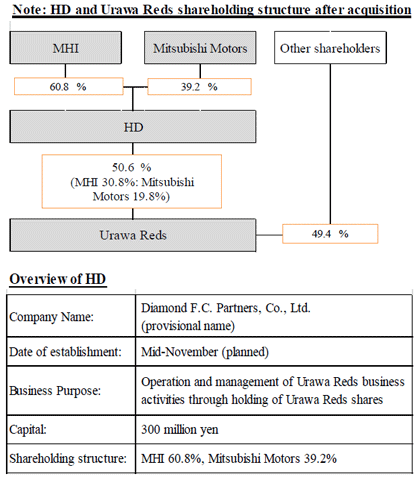 ---