Mitsubishi Heavy Industries Machine Tool Unveils ABLASER-DUV Deep Ultraviolet Laser
-- Utilizes Superior Light Focusing for Enhanced Micro-precision Machining --
Tokyo, November 8, 2016 – Mitsubishi Heavy Industries Machine Tool, Co., Ltd., today unveiled the "ABLASER-DUV", the latest model in the ABLASER micromachining line. This world-first technology uses a short pulse deep ultraviolet (DUV) laser. With its optimally designed optical system, it provides a smaller focal spot diameter while maintaining a long depth of focus*. This enables finer and higher-precision micromachining and drilling.
The ABLASER was first launched in FY2014; the first product in Mitsubishi Heavy Industries' (MHI) laser machining business. By ablating the machining area with high peak power, the thermal effects on the area can be suppressed. This means that, for drilling applications, dimensional accuracy and surface smoothness can be achieved at a level that would not be possible with conventional electric discharge or laser machining. The product's features allow difficult machining tasks, such as drilling conically tapered holes and drum-shaped holes, as well as micro-precision machining of difficult-to-cut, hard or brittle materials.
The new ABLASER-DUV features a high-quality short-pulse oscillator for rapid-firing of the laser light. The product uses the same unique optical head as previous ABLASER products, as well as a high-precision lens and prism to refract and rotate the laser beam at will.
The picosecond class DUV laser has a shorter wavelength than the short pulse YAG or green lasers commonly used in micromachining products. The smaller focal spot diameter allows finer machining, improving the minimum machining diameter to 10 µm (µ: 10-6), compared to 50 µm with the conventional ABLASER (which uses a green laser). In addition to enabling extremely fine machining, the ABLASER-DUV features a near-perfect circular focus spot allowing an outstanding level of precision in hole machining.
Further, since the photon energy of a DUV laser is large, it exhibits high machining performance with materials such as glass and compound semiconductors that were previously hard to process, even for other laser products.
With the release the ABLASER-DUV, MHI Machine Tool has delivered enhanced machining precision and quality. The Company will continue to meet the growing needs for machining across a more diverse range of materials such as semiconductors, where greater levels of lamination are required.
The ABLASER-DUV will be on display at JIMTOF 2016 (the 28th Japan International Machine Tool Fair) on November 17, when the product will officially go on sale.
* Depth of focus is the distance over which the focus point is judged to be in focus, where the depth is longer when the distance is longer. In laser machining, the suitable depth of focus depends on the application (short: cutting of thin plates or micromachining, long: cutting of thick plates or cutting without using extra oxygen).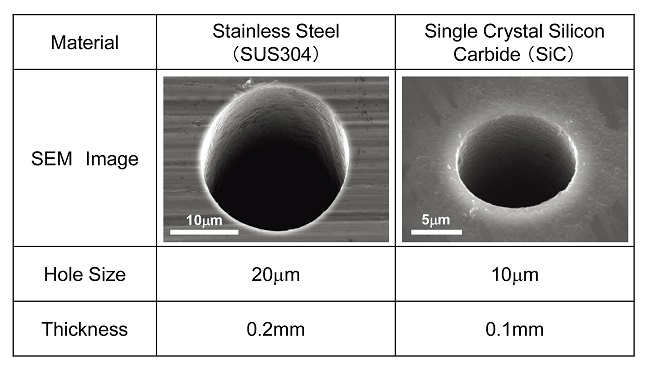 ---
About MHI Group
Mitsubishi Heavy Industries (MHI) Group is one of the world's leading industrial groups, spanning energy, smart infrastructure, industrial machinery, aerospace and defense. MHI Group combines cutting-edge technology with deep experience to deliver innovative, integrated solutions that help to realize a carbon neutral world, improve the quality of life and ensure a safer world. For more information, please visit www.mhi.com or follow our insights and stories on spectra.mhi.com.