Mitsubishi Heavy Industries Machine Tool Develops "MSS300" Super Skiving Machine
-- High-speed, High-precision Cutting of Internal Gears at Low Cost --
Tokyo, October 27, 2016 - Mitsubishi Heavy Industries Machine Tool, Co., Ltd. (President: Seiji Shirao, Head Office: Ritto City, Shiga Prefecture), a Group company of Mitsubishi Heavy Industries, Ltd. (MHI), has unveiled the MSS300 Super Skiving Machine which allows high-speed, high-precision cutting of internal gears. It features outstanding machine rigidity, synchronization control technology and dedicated cutting simulation software, which help overcome the technical challenges of conventional skiving, enabling lower production costs through mass production.
In recent years Skiving machinery has responded to increasing demand for production efficiency and accuracy for products such as automobiles, construction equipment and reduction gears. Skiving is a cutting technology whereby a pinion type cutter, or other rotary tool, is engaged with a workpiece (the gear material to be processed) at a crossed-axes angle and rotated together. At the points where the two make contact, the effect of the crossed-axes angle generates a sliding velocity in the axial direction, resulting in high-speed machining. The skiving process typically makes the cutting angle obtuse, resulting in significant tool wear.

The MSS300's use of a barrel-shaped multiple-cutting-edge rotary tool - an original technology developed by MHI Machine Tool - allows a large crossed-axes angle, enabling improved cutting speeds and precision, while the use of multiple cutter blades extends the standard tool life. The MSS300 also facilitates machining with a general pinion cutter, allowing selective use depending on the shape of the workpiece.

Direct drive motors are used for both the main spindle, on which the tool is mounted, and the table spindle, used for the workpiece. In addition to highly precise synchronization, the MSS300 also uses continuously meshing machinery to facilitate high-precision transfer of the tooth profile to the workpiece. A high level of rigidity is achieved through the adoption of a slide guide for the feeding of the X, Y and Z axes. In addition, superior positional precision is ensured through features such as a highly balanced left-right symmetrical structure that takes into account the flow of heat and force, allowing stable high-precision machining.

MHI Machine Tool will continue to leverage its dual strengths in diverse gear cutting machines and cutting tools, applying them to the development and provision of state-of-the-art gear cutting systems and technologies. In this way the Company will contribute to further improvements in the precision and productivity of gear machining.

The MSS300 Super Skiving Machine and cutters will be on display at JIMTOF 2016 (the 28th Japan International Machine Tool Fair) on November 17, at which time the product will officially go on sale.
Super Skiving Machine MSS300 Main Specifications

| Item | Specification |
| --- | --- |
| Max. work piece diameter | φ300mm |
| Machining target module | 4.0mm |
| Max. main spindle speed | 6,000 min-1 |
| Main spindle motor output | 33kW(continuous rated value) |
| Max. table speed | 3,000 min-1 |
| Cutter head turning angle (A axis) | ±30° |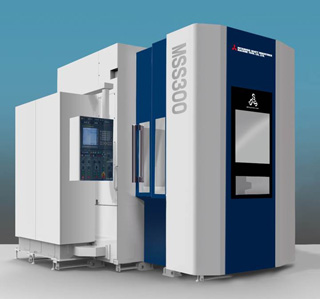 MSS300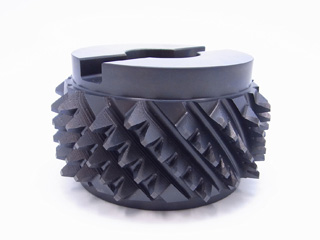 Super Skiving Cutter
---