MHI Publishes Integrated "MHI Report 2016"
-- Multifaceted Presentation of Progress with Medium-Term Business Plan and Strengthening of Risk Management --
Tokyo, October 25, 2016 - Mitsubishi Heavy Industries, Ltd. (MHI) has published its "MHI Report 2016", an integrated report for promoting broad ranging dialog with stakeholders, incorporating information from MHI's Annual Report and CSR Report. It outlines MHI's approach to value creation over the long-term and its main theme is risk management, with initiatives in this area discussed in detail. It also outlines progress towards the company's medium-term business plan, FY2015 financial results and various social and environmental initiatives, all presented in a simple and comprehensive format.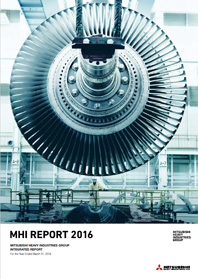 The "MHI Report 2016" is the third integrated report produced by the company, and was made in accordance with the International Integrated Reporting Framework, by the International Integrated Reporting Council (IIRC). It is divided into four sections, focusing on the company's efforts to create corporate value. These are: "Our Path to Sustainable Growth", "Management Strategies", "Achievements and Strategies for Value Creation through Our Business" and "Building a Framework for Value Creation".
The lead section introduces MHI's history and explains the results and challenges of recent business reform efforts, as well as activities to further enhance engineering capabilities and risk management.
In the Management Strategies section, MHI CEO Shunichi Miyanaga outlines progress made with the 2015 Medium-Term Business Plan, a three-year plan launched in fiscal 2015, and with various growth and reform initiatives. He also provides background on MHI's approach to growth drivers and risk management measures, explaining the company's commitment to strengthening risk management, improving risk verification skills and resilience at the management level, and increasing MHI's ability to solve problems when they occur.
In the CFO's Message section, financial strategies related to medium-term trends in financial conditions, portfolio management, cash flow management conditions and capital policies are presented.
For the first time, a message from the CTO is included in the report, in which he outlines his desire to strengthen the engineering business, and the outlook for business applications. The CTO also explains efforts to utilize MHI's strong cross-sectional engineering expertise to overcome challenges and differentiate from competitors.

In the section titled Building a Framework for Value Creation, Shunichi Miyanaga (CEO), Naoyuki Shinohara (Board Member, Outside Director and Professor at the University of Tokyo) and Christina Ahmadjian (Outside Director, Audit and Supervisory Committee Member and Professor at Hitotsubashi University) discuss the topic of risk management and its necessity for boosting growth globally. Measures to strengthen corporate governance, development of human resources, and technology are also addressed.
---