MHI Group Launches New Visual Identity
-- Blue-Gray and White Color Scheme Reflects MHI's Forward-Looking Approach --
Tokyo, October 25, 2016 - Mitsubishi Heavy Industries, Ltd. (MHI) Group today unveiled a new unified Visual Identity (V.I.), reflecting its forward-looking outlook and corporate values. The new V.I. combines clean and simple blue-gray and white coloring with a dynamically configured warm-color pattern, creating a look and feel that is consistent with the Group's ambition, scale and dynamism. The V.I. will be used as a branding tool for the entire MHI Group, helping to enhance its presence in the global market.
The launch of the new V.I. represents the next stage in MHI Group's ongoing efforts to expand global communications activities and brand awareness. Following the launch in May of the MHI Group's tagline, "Move the world forward", the V.I. continues this future-oriented message, while encompassing the key attributes and strengths that set MHI apart.

The main color of the V.I. is called "FORWARD blue-gray" and expresses two fundamental character groupings: "trustworthiness, sincerity and intelligence" imbued in the blue component, and "quality, elegance and harmony" implied by the gray tone.

FORWARD blue-gray complements the "MHI red" that has traditionally served as MHI's corporate color, as well as a range of other colors. The overall color tone has been kept subdued, while the partial use of warm colors conveys energy and emotion.

Going forward, all branding tools prepared by MHI and its Group companies will be unified to feature the new V.I., which can be flexibly employed by all Group companies, enabling differentiation from the predominant colors of other enterprises.

Further details relating to MHI Group's brand and visual identity will be announced soon.
Samples of the new V.I. can be viewed below: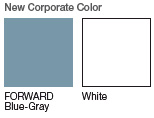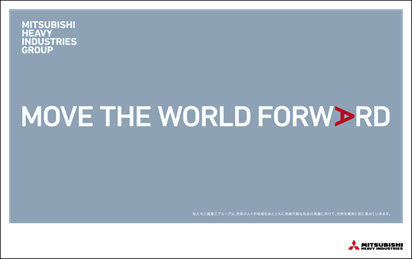 ---