New series of High-Efficiency Package Air Conditioners Wins 2016 Good Design Award
-- Features Industry-First AirFlex Draft Reduction Mechanism --
Tokyo, October 3, 2016 - The new series of high-efficiency package air conditioners developed by Mitsubishi Heavy Industries Thermal Systems, Ltd. (President: Kaoru Kusumoto, Head Office: Minato-ku, Tokyo), a Mitsubishi Heavy Industries, Ltd. group company, was awarded the "2016 Good Design Award" (Organized by the Japan Institute of Design Promotion).
The new series in-ceiling (four-direction) indoor unit that won the Good Design Award employs a highly-efficient, low noise fan to improve performance and has a new panel design that improves interiors and features larger air outlets for better airflow.
In addition, the unit features AirFlex – an industry-first mechanism that reduces the unpleasant feeling of drafts as well as improving user comfort. AirFlex retains integration with the panel during operation and is stored inside it when switched off for a better appearance. AirFlex also does not allow dust to fly out when switched on, delivering a clean environment.
Background to AirFlex Development
The aim was to achieve a package air conditioner that could reduce drafts which is a problem that had existed for many years and was the number one complaint of users. Also, developing an indoor unit with an unobtrusive design.
Comments from Good Design Award Examiners
Air conditioners must blow out air to cool a room, but some users find it unpleasant when they feel a draft of cold air on them. To avoid this with this product, wings that are stored when not used and only come out when in use control the airflow. This mechanism, resembling the flaps of an aircraft wing, offers both high performance and attractive appearance, making it an excellent design.
About the Good Design Award
The Good Design Award is Japan's only comprehensive design evaluation and recommendation initiative, originating with the "Good Design Products Selection System" founded in 1957. Over the last six decades, the Award has developed as an initiative to improve Japan's industry and lifestyle through design, with a total of 43,000 awards given. It is now a global design award with participation from numerous Japanese and international companies and organizations. The "G Mark", the symbol of the Good Design Award, is known widely as a symbol of excellent design.
*The "AirFlex" product names are used in Japan only.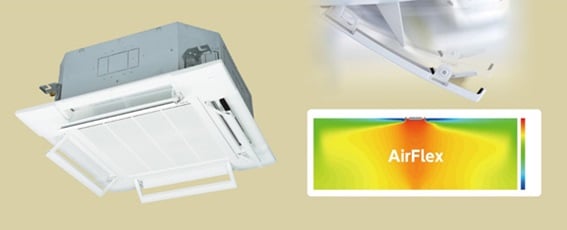 ---
About MHI Group
Mitsubishi Heavy Industries (MHI) Group is one of the world's leading industrial groups, spanning energy, smart infrastructure, industrial machinery, aerospace and defense. MHI Group combines cutting-edge technology with deep experience to deliver innovative, integrated solutions that help to realize a carbon neutral world, improve the quality of life and ensure a safer world. For more information, please visit www.mhi.com or follow our insights and stories on spectra.mhi.com.