Verification Testing to Commence of Improved Version of "Dokodemo Door®" Railway Platform System Accommodating Multiple Door Configurations
-- Testing Will Start This Autumn at Platform #1 of Miurakaigan Station on Keikyu Kurihama Line --
Tokyo, July 12, 2016 - Commencing this autumn, the railway platform system dubbed "Dokodemo Door®*" under development by Mitsubishi Heavy Industries Transportation Equipment Engineering & Service Co., Ltd. (MHI-TES), a Group company of Mitsubishi Heavy Industries, Ltd. (MHI), will undergo verification testing on an operating rail line. With the cooperation of Keikyu Corporation, testing will be performed at platform #1 of Miurakaigan Station on the company's Keikyu Kurihama Line.
The verification testing will be conducted under a grant provided by the Ministry of Land, Infrastructure, Transport and Tourism's Railway Bureau to support the development of new railway technologies. Dokodemo Door® is a platform door system under development by MHI-TES to address the problematic issue of accommodating railway lines that operate carriages having varying numbers of doors and door positions. For the new round of verification testing, prototype platform doors are being fabricated based on the results of in-house verification. These will be installed at platform #1 of Miurakaigan Station over a length equivalent to one railway car. Testing will target verification of the Dokodemo Door®'s simple interface system enabling easy opening/closing of the platform doors relying solely on platform-installed equipment, without need for railway car modification. It will also seek to confirm the new system's durability performance under actual operating conditions.

Through the scheduled round of testing, MHI-TES looks to confirm Dokodemo Door®'s safety and durability performance as a prelude to providing platform door systems that respond to the operating needs of a wide variety of railway cars used on railway lines having no TASC (train automatic stopping controller) systems. Such systems are projected to come into growing demand in the years ahead.

* "Dokodemo Door" means "Anywhere Door" in English.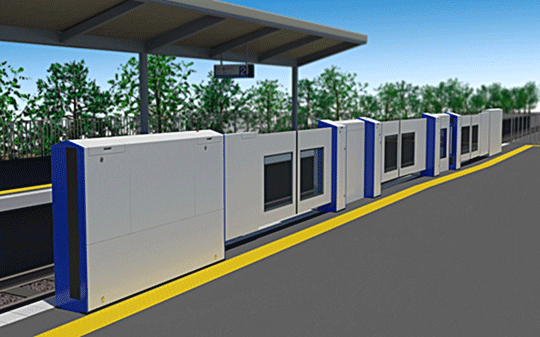 ---
About MHI Group
Mitsubishi Heavy Industries (MHI) Group is one of the world's leading industrial groups, spanning energy, smart infrastructure, industrial machinery, aerospace and defense. MHI Group combines cutting-edge technology with deep experience to deliver innovative, integrated solutions that help to realize a carbon neutral world, improve the quality of life and ensure a safer world. For more information, please visit www.mhi.com or follow our insights and stories on spectra.mhi.com.