MHI Launches TEJ100AM All-Electric Refrigeration Unit for Large-Scale Trucks Proprietary Inverter Technology Delivers Stable Temperature Control and Energy Savings
Tokyo, July 5, 2016 - Mitsubishi Heavy Industries, Ltd. (MHI) has developed the TEJ100AM, a new model in its range of all-electric Truck/Trailer Reefers (known as the TEJ Series). The unit is compatible with large-scale trucks such as hybrids that are capable of supplying power to ancillary equipment. Sales will begin through the domestic Truck/Trailer Reefers sales company Ryoju Cold Chain Co., Ltd. (RCC, CEO: Norio Ando, HQ: Chiyoda-ku, Tokyo), a 100% subsidiary of MHI. In addition to demonstrating stable cooling capability that is independent of the vehicle's speed, the new model features high reliability, reduced operating costs and improved environmental performance.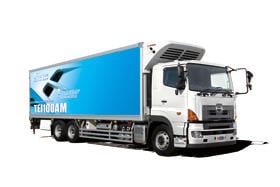 TEJ100AM has the highest class of refrigeration capability, able to handle transportation of frozen food and ice cream, and has a built-in demand function that controls operating power according to requests to limit power consumption from the power source, making it suitable for use in a wide range of trucks with power supply functionality. The compressor applies MHI's proprietary 3D scroll harmetic inverter compressor featuring an axial compression mechanism, and by using the 1 COMP 2 WAY multi-circuit to connect one compressor to two evaporators, full performance is attained at all times regardless of operating conditions. Additionally, as an industry first, the new model makes use of the low global warming potential refrigerant R410A.

Unlike units driven by the main engine, the electrically driven model provides stable refrigeration regardless of vehicle engine speed, delivering optimal performance according to the situation, whether for pulldown when the temperature must be rapidly cooled to the set level, or when maintaining the unit's internal temperature. With the long-life compressor and other components all housed in one unit, installation is simple, and maintenance costs have been reduced by eliminating items such as the compressor drive belt, refrigerant hose and refrigerant additional charging.

The new model applies features such as a proprietary inverter control function, an electronic expansion valve for precise control of refrigerant flow, and an economizer cycle . MHI has used its broad portfolio of technologies developed in the field of industrial air conditioning to pursue high performance, delivering stable temperature control and excellent energy efficiency.

Going forward, MHI intends to aggressively develop and invest in refrigeration units for Truck/Trailer Reefers that improve the energy efficiency and environmental performance of trucks and trailers, contributing to creating a low-carbon society by further evolving the low-temperature logistics market.
---
About MHI Group
Mitsubishi Heavy Industries (MHI) Group is one of the world's leading industrial groups, spanning energy, smart infrastructure, industrial machinery, aerospace and defense. MHI Group combines cutting-edge technology with deep experience to deliver innovative, integrated solutions that help to realize a carbon neutral world, improve the quality of life and ensure a safer world. For more information, please visit www.mhi.com or follow our insights and stories on spectra.mhi.com.