MHI Concludes Agreement with Atlantic Group,Leading French Manufacturer of Air-Conditioners and Water Heaters,to Collaborate in Marketing the "Q-ton,"a CO2-based Heat Pump Water Heater, in France
Tokyo, April 19, 2016 - Mitsubishi Heavy Industries, Ltd. (MHI) has concluded an agreement with Atlantic Group, a leading French manufacturer of air-conditioning systems and electric water heaters, under which the two companies will collaborate in marketing MHI's "Q-ton," a commercial-use heat pump water heater using carbon dioxide (CO2) as a natural refrigerant, throughout France. The collaboration aims to take advantage of Atlantic Group's solid sales network and high brand recognition to accelerate sales expansion of the Q-ton, a system that enables reductions in running costs while also offering environmental compatibility and dependable usage in ambient temperatures down to -25°C.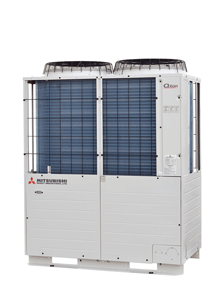 The agreement on sales collaboration was concluded through Mitsubishi Heavy Industries Air Conditioning Europe, Ltd. (MHIAE), a London-based Group company that oversees MHI's air-conditioning and refrigeration (AC&R) business in Europe. Atlantic Group, established in 1968, is one of Europe's foremost manufacturers of boilers for hot water supply and heating applications, heat pumps, electric water heaters, etc. marketed worldwide. The Group has approximately 5,500 employees in ten locations in France and a further ten overseas. The most recent annual Group sales were approximately 1.35 billion Euros.


Under the collaborative arrangement, Atlantic's extensive sales and servicing network throughout France will be used to significantly enhance market recognition of the Q-ton, to swiftly build up a solid track record in sales. Sales and after-sales service through YACK SAS, the existing French Q-ton distributor, will continue after signing the agreement with Atlantic Group.


The Q-ton was developed by MHI as the world's first heat pump water heater usable in ambient temperatures down to -25°C.
, a strategic product to open up the market for heat pump water heaters in cold weather climates while simultaneously offering environmental advantages as a replacement for boilers for hot water supply or heating applications. The Q-ton adopts a two-stage compressor combining scroll and rotary compressors; this innovative " Two-stage compressor
" configuration achieves superlative efficiency under all operating conditions while also improving both performance and reliability. Thanks to the use of CO2 as a natural refrigerant with an ozone absorption coefficient of 0 and a global warming potential (GWP) of 1, the Q-ton emits less CO2 than conventional gas boilers or electric hot water heaters, and also keeps running costs relatively low, making the system ideal for adoption in hotels and other facilities that use large amounts of hot water.


Since the 2015 Paris Climate Conference (COP21), moves to curb CO2 emissions and prevent global warming have gathered momentum, and along with this trend initiatives to set in place new legal frameworks are under way. In the coming years, demand is thus projected to increase for heat pumps capable of providing heat or supplying hot water in an environmentally compatible way using solar-generated heat. It was in view of this expected growth that the positions of MHI and Atlantic meshed, leading to the newly concluded agreement.


Going forward, through collaboration MHI and Atlantic will pursue synergies from their respective technological and sales capabilities in the hot water supply and heating system fields, looking to expand their market share in France.
---
About MHI Group
Mitsubishi Heavy Industries (MHI) Group is one of the world's leading industrial groups, spanning energy, smart infrastructure, industrial machinery, aerospace and defense. MHI Group combines cutting-edge technology with deep experience to deliver innovative, integrated solutions that help to realize a carbon neutral world, improve the quality of life and ensure a safer world. For more information, please visit www.mhi.com or follow our insights and stories on spectra.mhi.com.