Agreement Reached to Establish and Operate Company Integrating Shield Tunneling Machine Businesses
IHI Corporation
JFE Engineering Corporation
Japan Tunnel Systems Corporation
Mitsubishi Heavy Industries, Ltd.
Mitsubishi Heavy Industries Mechatronics Systems, Ltd.
Tokyo, April 26, 2016 - IHI Corporation ("IHI"), JFE Engineering Corporation ("JFEE"), Japan Tunnel Systems Corporation ("JTSC"), a consolidated subsidiary of IHI with 49% of the shares held by JFEE, Mitsubishi Heavy Industries, Ltd. ("MHI"), and the MHI wholly-owned subsidiary Mitsubishi Heavy Industries Mechatronics Systems, Ltd. ("MHI-MS") today announced they have reached agreement on terms for establishing and operating a new enterprise that integrates their respective businesses in shield tunneling machines, including large-scale equipment used to excavate tunnels for subways, roads, sewage lines and public utility conduits. The five companies engaged in detailed discussions after concluding a basic integration agreement on May 28, 2015.
Under the agreement, JTSC and MHI-MS will split off and transfer their shield businesses to the new operating company. That new entity will become an IHI consolidated subsidiary on October 1, 2016, with JTSC and MHI maintaining capital contribution ratios of 60% and 40% respectively, and will be headquartered in Kawasaki. The five companies will collaborate to obtain approvals from relevant authorities and complete the integration process.

The first step in the reorganization of Japan's shield tunneling industry was in November 2009, when IHI and JFEE established JTSC, which has the top share of Japan's shield tunneling machinery market. The involvement of the MHI Group, which has advanced technical capabilities and a proven track record in the global market, will reinforce the business structure of the new company. That entity should thus be well positioned to capitalize on solid growth from anticipated domestic demand, and accelerate global business development with a focus on China, India, and ASEAN nations, where demand is expected to expand.

The new company will endeavor to become a leader in the global marketplace through a swift integration and exploitation of synergies, and by delivering products and services with higher added value. IHI, JFEE, and MHI together will give their full support to the new company's operations.
Reference
Integration scheme (absorption-type split)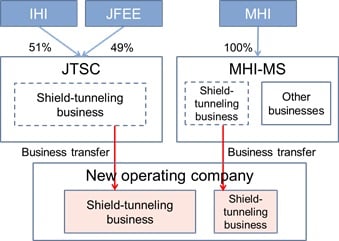 Integration scheme (after absorption-type split)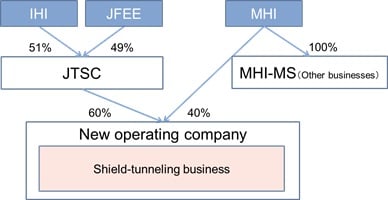 ---
About MHI Group
Mitsubishi Heavy Industries (MHI) Group is one of the world's leading industrial groups, spanning energy, smart infrastructure, industrial machinery, aerospace and defense. MHI Group combines cutting-edge technology with deep experience to deliver innovative, integrated solutions that help to realize a carbon neutral world, improve the quality of life and ensure a safer world. For more information, please visit www.mhi.com or follow our insights and stories on spectra.mhi.com.