MHI Flue Gas CO2 Capture Process Awarded Okochi Memorial Technology Prize at the 62nd Annual Okochi Memorial Awards
Tokyo, March 25, 2016 - A technology developed by Mitsubishi Heavy Industries, Ltd. (MHI) to capture carbon dioxide (CO2) from flue gases (so called "KM CDR Process™") has received the Okochi Memorial Technology Prize at the 62nd annual Okochi Memorial Awards from the Okochi Memorial Foundation. The process's groundbreaking technology was recognized for its superior reliability and economy, its excellent track record in commercial applications, as well as its contributions to carbon capture and storage (CCS) technologies that help mitigate global warming, and to CO2 injection for enhanced oil recovery (EOR) application.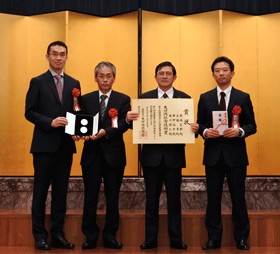 MHI's CO2 capture technology, "KM CDR Process™", is based on a high-performance chemical absorption process that utilizes KS-1™, a proprietary solvent jointly developed by MHI and Kansai Electric Power Co., Inc. This technology achieves significant reductions in energy consumption compared with existing methods. MHI has been involved in efforts to enhance energy savings and reduce solvent consumption and plant size for over two decades. Since 1999, this technology has been adopted in 11 plants to capture CO2 from the flue gas of boilers fired by natural gas or fuel oil at chemical plants worldwide. This track record has made MHI a global leader in the commercial application of flue gas CO2 capture technology.

In collaboration with Southern Company, a major U.S. electric utility, MHI built a CO2 capture demonstration plant with a capacity of 500 metric tons per day (mtpd) at the Plant Barry coal-fired power generation plant in Alabama. This demonstration plant, designed to capture CO2 from coal fired flue gas which typically contains significant quantities of impurities, began operating in 2011 and completed its initial demonstration phase in early 2014. In July, 2014, MHI also received an order for the world's largest post-combustion CO2 capture system for an enhanced oil recovery (EOR) project in Texas. The project is being led by NRG Energy, Inc., an independent power producer (IPP) in the U.S., and JX Nippon Oil & Gas Exploration Corporation (JX Nippon), a JX Group company based in Japan. Through these significant experiences and achievements, MHI is playing a key role in the commercialization of CO2 capture technology around the world.

The Okochi Memorial Foundation is named after Dr. Masatoshi Okochi, a pioneer in the field of industrial engineering. Establishing Okochi Memorial Awards in 1954, the foundation annually awards the Okochi Memorial Foundation Technology Prize to recognize outstanding achievement by individuals or groups working in the fields of production engineering and production technology research and development. MHI's Masaki Iijima, Senior Chief Engineer, Chemical Plant & Infrastructure Division of Energy & Environment, two MHI engineers, and one researcher were awarded the Okochi Memorial Technology Prize.

Encouraged by its receipt of the Okochi Memorial Technology Prize, MHI now aims to pursue further advances in CO2 capture technology in order to make increasingly significant contributions to worldwide efforts to prevent global warming.
---
About MHI Group
Mitsubishi Heavy Industries (MHI) Group is one of the world's leading industrial groups, spanning energy, smart infrastructure, industrial machinery, aerospace and defense. MHI Group combines cutting-edge technology with deep experience to deliver innovative, integrated solutions that help to realize a carbon neutral world, improve the quality of life and ensure a safer world. For more information, please visit www.mhi.com or follow our insights and stories on spectra.mhi.com.