MHI Delivers "Jinryu" Japan's 7th Soryu-Class Submarine, at the MHI Kobe Shipyard & Machinery Works
Tokyo, March 7, 2016 - Mitsubishi Heavy Industries, Ltd. (MHI) delivered the "Jinryu" submarine to the Japanese Ministry of Defense (MOD) today in a ceremony held at the MHI Kobe Shipyard & Machinery Works' No.3 pier in Kobe, Hyogo Prefecture. The Jinryu is the seventh Soryu-class submarine supplied to the Japan Maritime Self-Defense Force (JMSDF), and the fourth built by MHI. MHI also built the first Soryu-class submarine, and has produced a total of 26 submarines at the MHI Kobe Shipyard over the last 70 years.
The delivery ceremony was attended by a number of MOD officials including State Minister of Defense Kenji Wakamiya, JMSDF Chief of Staff Tomohisa Takei, and Acquisition, Technology and Logistics Agency Commissioner Hideaki Watanabe. MHI was represented by Hisakazu Mizutani, Executive Vice President of MHI and President & CEO of MHI Integrated Defense & Space Systems.

Soryu-class submarines are the world's largest conventionally powered submarines. They have an excellent operational track record and are equipped with state-of-the art technologies, including air-independent propulsion (AIP) systems that enable them to remain fully submerged for long periods of time, and advanced stealth technologies that make them extremely difficult to detect.
Major Specifications and Building Schedule of "Jinryu"
Specifications
Length overall: 84.0 meters (m)
Breadth: 9.1 m
Depth: 10.3 m
Displacement: 2,950 tonnes (submerged displacement: 4,100 tonnes)
Main engine: Diesel-Stirling-electric, one shaft
Maximum output: 8,000 PS
Maximum speed: 20 knots
Complement: about 65
Armament and other equipment: Torpedo tubes, snorkel, submarine sonar system, etc.

Building Schedule
Keel laid: February 14, 2012
Launched: October 8, 2014
Delivered: March 7, 2016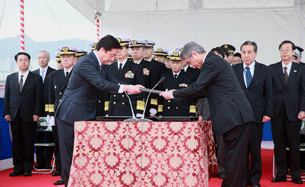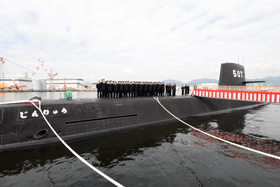 ---
About MHI Group
Mitsubishi Heavy Industries (MHI) Group is one of the world's leading industrial groups, spanning energy, smart infrastructure, industrial machinery, aerospace and defense. MHI Group combines cutting-edge technology with deep experience to deliver innovative, integrated solutions that help to realize a carbon neutral world, improve the quality of life and ensure a safer world. For more information, please visit www.mhi.com or follow our insights and stories on spectra.mhi.com.