Mitsubishi Heavy Industries Machine Tool to Exhibit at SEMICON Japan for First Time, Demonstrating its Micromachining Solutions for the Semiconductor Industry
Tokyo, December 7, 2015 - Mitsubishi Heavy Industries Machine Tool Co., Ltd., a Group company of Mitsubishi Heavy Industries, Ltd. (MHI), will exhibit at "SEMICON Japan 2015,"to be held at Tokyo Big Sight in Ariake from December 16 (Thu) to 18 (Sat). The occasion marks the first time the Shiga-based company, launched in its new business format in October, will be participating in this annual event. By showing a selection of its proprietary product offerings - including the "ABLASER"laser micromachining system and "µV1"micromilling machine - Mitsubishi Heavy Industries Machine Tool aims to demonstrate its diverse micromachining solutions necessary for the semiconductor manufacturing industry.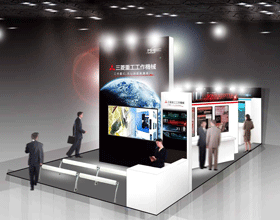 Heading the list of the company's prominent products set for display is its "ABLASER"laser micromachining system. The ABLASER primarily performs ablation - a process that causes a material to evaporate or sublimate - using an ultra-short pulse laser highly durable against thermal affection. It can also be used to perform extremely high-speed, high-precision microdrilling and groove cutting, enabled by the adoption of an optical system that integrates the technologies of precision machine tools with the optical design technologies applied to lenses and prisms. On exhibit will be a selection of high-quality micromachined ceramic and silicon carbide (SiC) samples, applications that are normally difficult to machine.

Another proprietary product to be shown at SEMICON Japan 2015 is the "µV1"micromilling machine. The µV1 achieves high-definition machining of freely curved surfaces through the adoption of a high-rigidity, low-vibration spindle and imaging type tool measurement system. It is also suitable for machining of ceramics, sapphires and other fragile materials conventionally considered unsuited to machining. On display will be ultra-micromachined samples 30µm in diameter.

The "BOND MEISTER,"a room-temperature wafer bonder of Mitsubishi Heavy Industries Machine Tool, performs strong bonding at room temperature by irradiating a beam that activates the bonding surfaces of a wide array of materials, including silicon-based materials, compound semiconductors, optical materials and metals. It is especially useful for vacuum sealing of microelectromechanical systems (MEMS), engineering substrates and 3-dimensional stacked devices. On exhibit at SEMICON Japan 2015 will be samples of various bonded materials, including 300-millimeter (mm) wafers with 3D laminates as thin as 5µm.

A fourth proprietary product scheduled for exhibit is the "Mitsubishi Precision (MP) Scale,"a scale that operates on the principle of electromagnetic induction. It has a high-precision positioning function that enables high-speed movement of tools and workpieces. The MP Scale is offered in two types: a linear type for linear position detection, and a rotary type for angle detection. The system provides superlative precision and resolution, is remarkably space-saving, and has outstanding environmental resistance, as exemplified by its ability to maintain a superior operating rate with excellent stability over a long period of time. The MP Scale has a robust track record in machine tool installations, and an actual example will be on display to enable visitors to confirm the system's ease of attachment.

SEMICON Japan is one of the world's largest comprehensive exhibitions of supply-chain manufacturers of microelectronic products. In terms of semiconductor production equipment and materials, it is Japan's only large-scale international exhibition covering all phases from upstream to downstream processing. The 2015 show will be the 39th to date since the first SEMICON Japan in 1977. Last year's exhibition attracted 725 company or group exhibitors and more than 60,000 visitors.

Mitsubishi Heavy Industries Machine Tool was launched on October 1 as a wholly owned subsidiary taking over the former machine tool operations of MHI. The creation of a dedicated company was undertaken to strengthen and expand related operations. One of the new entity's core areas of operations is advanced manufacturing systems making optimal use of the comprehensive technological capabilities of the MHI Group - of which the ABLASER, µV1 and room-temperature wafer bonder are but three examples. These and the other products to be displayed at SEMICON Japan 2015 will demonstrate the exciting new possibilities of today's front line in innovative manufacturing.
---
About MHI Group
Mitsubishi Heavy Industries (MHI) Group is one of the world's leading industrial groups, spanning energy, smart infrastructure, industrial machinery, aerospace and defense. MHI Group combines cutting-edge technology with deep experience to deliver innovative, integrated solutions that help to realize a carbon neutral world, improve the quality of life and ensure a safer world. For more information, please visit www.mhi.com or follow our insights and stories on spectra.mhi.com.