MHI Develops Power Assist Suit (PAS) for Nuclear Disaster Response
-- Collaboration with Japan Atomic Power Company --
Tokyo, December 1, 2015 - Mitsubishi Heavy Industries, Ltd. (MHI), in collaboration with The Japan Atomic Power Company (JAPC), has developed a power assist suit (PAS) capable of providing auxiliary strength to workers coping with the aftereffects of nuclear disaster, etc. Wearing the PAS, a worker can handle approximately 40 kilograms (kg) of extra weight. The synergy between the PAS system's robotic capability and the worker's natural strength enables a broad array of tasks that would otherwise not be possible. In developing the PAS system, MHI and JAPC also coordinated with Nara-based Activelink Co., Ltd. in carrying out feasibility studies primarily relating to assistive equipment for work applications.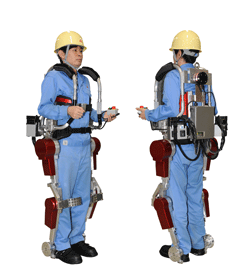 Remotely controlled robots are currently in the spotlight for their potential utility to perform tasks at nuclear disaster sites where work must be performed in a radiation-contaminated environment. And while expectations in that respect run high, real situations may well necessitate heavy work by humans to prepare such robots at the disaster site or to respond swiftly and flexibly in times of emergency. The PAS was developed to lighten the burden of workers called upon to perform heavy tasks under such situations. Wearing the PAS, which is heavily shielded to reduce exposure to radiation, workers can perform heavy tasks such as carrying remote control robots, emergency power supplies, etc. to where they are needed.

The PAS can accommodate diverse work tasks through its two-component configuration: one component that serves as the system's base attached to the lower body, and another component attached to the upper body that is customized to match the specific application required. In contrast to generally used PAS systems that employ myogenic potential and other biological information, the PAS newly developed by MHI and JACP features a control system that utilizes foot-sole power sensor signals, and the PAS is anchored to its wearer only at the hips and feet. As a result, the new PAS provides excellent reliability immune to perspiration when performing heavy work, and the system is easy to put on and take off.

In developing the PAS, MHI simultaneously achieved outstanding assistive power and a compact, lightweight structure through the adoption of small-scale high-output motors used in robots for nuclear applications, plus small-scale circuit boards developed in-house. Optical arrangement of the foot-sole power sensors in just the right number enables accurate reading of the worker's movements, enabling outstanding assistive control without impeding the worker's mobility.

Going forward, MHI will pursue further enhancement of the PAS's performance capabilities, and will offer PAS-based solutions not only for nuclear-related applications but for a wide range of fields.
Main Specifications

| | |
| --- | --- |
| Outer dimensions・Mass | Length: 399 mm, Width: 618 mm, Height: 1,498.5 mm; Mass: 39.0 kg |
| Power assist | 400 N (approx. 40kgf) excluding suit weight |
| Power source | Lithium-ion battery (2-hour continuous operation) |
| Walking speed | 4.5km/h without load, 3.0km/h with maximum load |
---
About MHI Group
Mitsubishi Heavy Industries (MHI) Group is one of the world's leading industrial groups, spanning energy, smart infrastructure, industrial machinery, aerospace and defense. MHI Group combines cutting-edge technology with deep experience to deliver innovative, integrated solutions that help to realize a carbon neutral world, improve the quality of life and ensure a safer world. For more information, please visit www.mhi.com or follow our insights and stories on spectra.mhi.com.