MHI Delivers 6-Car Automated Guideway Transit System (AGT) Train to Saitama New Urban Transit Co. for Ina Line "New Shuttle" Service
- Service to Begin in November, Car to Be Exhibited at MTI Japan 2015 -
Tokyo, October 30, 2015 - Mitsubishi Heavy Industries, Ltd. (MHI) began delivery of 6-car Automated Guideway Transit (AGT) trains to Saitama New Urban Transit Co., Ltd. to replace trains currently in use on the Ina Line "New Shuttle" service. The new cars are designed and engineered for reduced weight and improved passenger comfort, with next-generation "G-Fit" seats. Commercial operation of the train is scheduled to begin on November 4.
The new railway cars, designated Model 2020, have an all-new external design that is as futuristic as the Shinkansen bullet trains they run beside. The new cars are almost a ton lighter than their predecessors-a reduction made possible largely through adoption of a double skin aluminum body structure. Model 2020 cars also feature MHI's newest "T-smover" bogies, which combine the advantages of light weight, outstanding durability, low noise and vibration, and easy maintenance.

The car has a hexagonal transverse cross-section design that bulges slightly outward on both sides. This maximizes space inside the car and allows the backs of the seats on either side to be slanted at a comfortable angle.

Saitama New Urban Transit is a semi-public sector company established by Saitama Prefecture and the East Japan Railway Company (JR-East) in December 1983. The Ina Line has 13 stations and extends approximately 13 kilometers (8 miles), connecting Omiya and Uchijuku. Saitama New Urban Transit is currently replacing its initially introduced 42 cars (seven trains), of which MHI has just delivered a 6-car train, the first of three 6-car units (18 cars total) ordered that are slated to replace older models by the end of 2016.

Automated Guideway Transit (AGT) systems were first introduced in Japan in 1981, and are now used by a growing number of municipalities throughout the country. AGT trains have a relatively small minimum turning radius of 30 meters (approximately 100 feet), enabling them to turn more easily for more efficient utilization of road space. Today's AGT trains also feature rubber tires that minimize noise and vibration, making them environmentally harmonious with residential areas that adjoin lines. MHI will exhibit a production Model 2020 car at Mass-Transit Innovation Japan 2015 (MTI Japan 2015), an international trade fair for railway technology to be held November 11 through 13 at Makuhari Messe in Chiba Prefecture.

In addition to the Model 2020 "New Shuttle" cars, MHI's AGT models include the Model 7300 and Model 330. The Model 7300 developed for the Tokyo New Waterfront Transit System "Yurikamome" won the Good Design Award 2014 with a superb design that completely updates the image of image of public transportation. The Model 330 developed for the Tokyo Metropolitan Bureau of Transportation's Nippori-Toneri Liner also began operation earlier this month. Anticipating the advent of new age Automated Guideway Transit, MHI will continue to proactively market its AGT cars by highlighting their superior design, economic efficiency and environmental performance.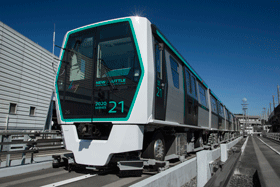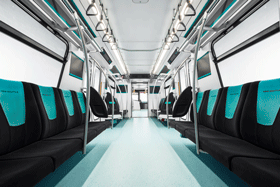 Saitama New Urban Transit "New Shuttle" car               Interior of "New Shuttle" car Model 2020
---
About MHI Group
Mitsubishi Heavy Industries (MHI) Group is one of the world's leading industrial groups, spanning energy, smart infrastructure, industrial machinery, aerospace and defense. MHI Group combines cutting-edge technology with deep experience to deliver innovative, integrated solutions that help to realize a carbon neutral world, improve the quality of life and ensure a safer world. For more information, please visit www.mhi.com or follow our insights and stories on spectra.mhi.com.