MHI Publishes Integrated "MHI Report 2015"
- Broad Ranging Presentation of New Medium-Term Business Strategies and Initiatives to Address Environmental and Social Issues -
Tokyo, October 28, 2015 - Mitsubishi Heavy Industries, Ltd. (MHI) has published "MHI Report 2015," an integrated report that includes both Annual Report and CSR Report information to present the way of company's value creation from a long-term perspectives. MHI Report 2015 introduces the company's new medium-term business plan and financial results for fiscal 2014 - the year ended March 31, 2015 - as well as its social and environmental initiatives, all presented in an easy-to-understand format.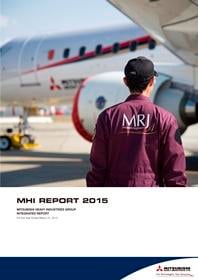 MHI Report 2015 is the second integrated report following last year, and was prepared in accordance with the International Integrated Reporting Framework released by the International Integrated Reporting Council (IIRC). The report focuses on the company's efforts to create corporate value, and consists of four parts. The first is an overview of the company entitled, "Cover Story: MHI's Course," followed by "Strategies for Augmenting Corporate Value," "Creating Value through Our Businesses" and "Building a Framework for Value Creation."
The Cover Story section introduces more than 130 year history of the company and describes its mission as an increasingly globalized comprehensive infrastructure company, as well as its various management reform initiatives. In the section, President Shunichi Miyanaga outlines the corporate aspirations defined by the newly launched 2015 Medium-Term Business Plan, a three year plan started this fiscal year, and describes MHI as "a global group with the vision to mold an innovative and agile organization that leverages our dedication to technological advancement and engineering excellence in order to deliver solid growth amid constant changes and make a lasting difference in the communities we serve."
In the section titled "Strategies for Augmenting Corporate Value," President Miyanaga presents further details of the three initiatives in the Medium-Term Business Plan, which he describes in his President's Message as: "Enhance global competitiveness through accelerated expansion," "Further bolster financial strength and pursue high profitability" and "Promote global-standard corporate governance and management processes." In the "CFO's Message" section, cash flow-oriented financial and capital policies are presented.
The section also includes comments from three outside directors - Nobuo Kuroyanagi, Senior Advisor, The Bank of Tokyo-Mitsubishi UFJ, Ltd.; Christina Ahmadjian, Professor of Hitotsubashi University Graduate School of Commerce and Management; and Shinichiro Ito, Chairman of the Board, ANA Holdings Inc. - who were appointed to serve on a new Audit and Supervisory Committee that was established following MHI's adoption of an audit and supervisory committee structure earlier this year. They talked about MHI's directives toward corporate governance and globalization.
The "Creating Value through Our Businesses" section introduces the Company's efforts to create a new business model that goes beyond the scope of conventional manufacturing. As an example, it focuses on the Mitsubishi Regional Jet (MRJ), a next-generation regional jet that is on track to make its first test flight very soon. In the section on "Building a Framework for Value Creation," the report describes efforts to enhance corporate governance through the introduction of an audit and supervisory committee structure, as well as human resources development, intellectual property and R&D activities.
MHI views MHI Report 2015 as a primary tool for advancing dialogue with stakeholders. The report is now distributed to the company's diversified stakeholders, including shareholders and investors, and will also be posted on the company website at: 
http://www.mhi-global.com/finance/library/annual/index.html
---
About MHI Group
Mitsubishi Heavy Industries (MHI) Group is one of the world's leading industrial groups, spanning energy, smart infrastructure, industrial machinery, aerospace and defense. MHI Group combines cutting-edge technology with deep experience to deliver innovative, integrated solutions that help to realize a carbon neutral world, improve the quality of life and ensure a safer world. For more information, please visit www.mhi.com or follow our insights and stories on spectra.mhi.com.