MHI to Deliver New 5-Car Train to Tokyo Metropolitan Government for Nippori-Toneri Liner
-- Newly Designed and Engineering Cars Will Contribute to Easing Congestion during Morning and Evening Rush Hours --
Tokyo, September 8, 2015 - Mitsubishi Heavy Industries, Ltd. (MHI) is about to deliver a 5-car new urban transportation railway train to the Tokyo Metropolitan Government's Bureau of Transportation for use on its Nippori-Toneri Liner. The cars are of a new type engineered for significantly lighter weight and designed for greater passenger capacity through the adoption of the company's next-generation "G-Fit" long seats developed to provide increased comfort on commuter railways. The new train will contribute to easing congestion during the morning and evening rush hours. Operation is slated to commence in October.
The new railway cars, designated Model 330, offer substantially greater transport capacity through the adoption of long seats. In all, seating capacity per 5-car train has been increased by 19 and maximum passenger capacity has been expanded by 97*. Meanwhile car weight has been reduced by close to 1.5 ton from the currently used cars, made possible largely through adoption of a double skin aluminum body structure. The significant decrease in physical weight brings advantages in terms of energy saving and longer service life for parts, thus leading to reduction in the train's lifecycle costs. The unpainted body structure is also beneficial with respect to enhanced environmental compatibility. The Model 330 cars come with new "T-smover" bogies that deliver advantages including light weight, outstanding durability, low noise and vibration, and easy maintenance.

The Nippori-Toneri Liner is a public transit system operated by the Tokyo Metropolitan Government. The line connects Nippori Station in Arakawa-ku and Minumadai-shinsuikoen Station in Adachi-ku, a distance of approximately 10 kilometers (6.2 miles). Since the railway opened in 2008, the number of users has steadily increased together with development along the new line, raising calls for new cars to relieve the current congestion.

Today's new urban transportation systems feature rubber tires that produce minimal noise and vibration, making them environmentally harmonious with areas alongside their rail lines. MHI is contributing in this respect worldwide. In Japan, in 2010 the company received an order for 18 new type trains (108 cars) for Tokyo's New Waterfront Transit System (Yurikamome); the new cars went into service in January 2014. Overseas, in 2011 MHI received an order for 79 new type trains (158 cars) for the Macau Light Rapid Transit (LRT) in China.

Note: Maximum passenger capacity of currently used Model 300 is calculated from its publicized car weight.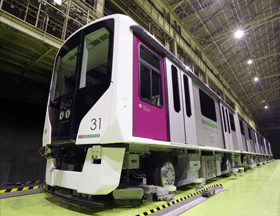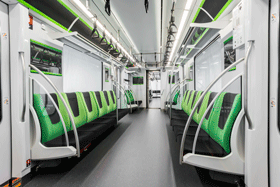 New Nippori-Toneri Liner car Model 330    Interior of New Nippori-Toneri Liner car Model 330
---
About MHI Group
Mitsubishi Heavy Industries (MHI) Group is one of the world's leading industrial groups, spanning energy, smart infrastructure, industrial machinery, aerospace and defense. MHI Group combines cutting-edge technology with deep experience to deliver innovative, integrated solutions that help to realize a carbon neutral world, improve the quality of life and ensure a safer world. For more information, please visit www.mhi.com or follow our insights and stories on spectra.mhi.com.