MHI Launches "ASV4 Series" of Packaged Air-conditioners for Facility Use
-- APF Ratings Clear 2015 Energy Saving Guidelines by Wide Margin, Achieving Industry's Top Performers --
Tokyo, August 24, 2015 - Mitsubishi Heavy Industries, Ltd. (MHI) has commenced full-scale marketing of a newly completed lineup of packaged air-conditioners engineered for facility use applications. The new units, known as the "ASV4 Series," are being offered in 5 different series encompassing a total of 22 models. Of the 22, three models (5, 8 and 10 horsepower) in the "Standard Series" and two models (8 and 10 HP) in the "Refresh Series" specifically developed for renewal applications are required to comply with Japan's new 2015 energy saving standards1, and all five models have cleared the revised guidelines by a wide margin, with some achieving the industry's top annual performance factor (APF) ratings2.
The five duct-connected type models subject to the 2015 energy standards are required to have an APF of at least 4.7. The 5HP unit in the new ASV4 Standard Series has achieved an APF of 5.1; the 8HP units in the Standard and Refresh Series, an APF of 6.0 (60Hz); and the 10HP models in the Standard and Refresh Series, an APF of 5.8 (60Hz). The 6.0 rating achieved by the 8HP units is especially noteworthy, as it marks the highest efficiency rating of all facility use air-conditioners in the industry.

All ASV4 indoor units feature a high-efficiency 3-phase motor satisfying Japan's standards applied to top-runner motors in all series. Operations are performed using a standard-equipped "eco-touch" remote control; the easy-to-operate remote control adopts three buttons – ON/OFF, High Power and Save Energy – and an easy-to-read large 3.8-inch liquid-crystal display (LCD) panel. When the High Power button is activated, for 15 minutes the air-conditioner operates at maximum capacity in order to accommodate the indoor load. When the Save Energy button is pressed, the air-conditioner is automatically set to 28°C when cooling, 22°C when heating, or 25°C when the unit is under automatic operation, thereby saving on energy consumption. Other setting details can be performed very simply thanks to the adoption of the large LCD.

Measures have also been taken to simplify the indoor units' maintenance. Filter maintenance has been facilitated by separating the filter changing unit on the front panel, making the unit lighter in weight, and adopting knurled screws that enable loosening and tightening tasks to be performed without use of a screwdriver.

MHI has also responded to various demands of users of facility use air-conditioners with a host of innovative control functions. "New refrigerant pressure control" simultaneously performs load following and energy savings; "demand control" enables the user to select the compressor operating speed and current value; and "new automatic operation control" factors in not only the selected temperature setting and room temperature but also the outdoor temperature. In addition, the air-conditioners can be customized to accommodate various user demands. A full lineup is available to offer high added value in terms comprehensive system energy savings, comfort, easy usage, etc.

MHI's new "ASV4 Series" of facility use packaged air-conditioners encompasses five series: the Standard Series for use in general factories; the Refresh Series exclusively for renewal applications, enabling use of existing pipes, etc.; the "All Fresh Series" for outdoor air processing at hospitals, paint factories, etc.; the "All Fresh Refresh Series" for renewal of Refresh Series units; and the company's proprietary "Year-round Cooling Series" to perform stable cooling load processing all year round. Based around these five series, going forward MHI will continue to respond precisely to a wide spectrum of market needs with innovative technologies for facility use packaged air-conditioner.

Notes:
1. The new standards apply to air-conditioners with floor-standing indoor units that are connected by duct and have rated cooling capacities up to and including 10HP (28.0kW).
2. Annual performance factor: an indicator of performance calculated by dividing the total capacity necessary to cool and heat for an entire year by the amount of energy consumed by the cooling/heating system. The higher the APF value, the higher is the level of energy efficiency.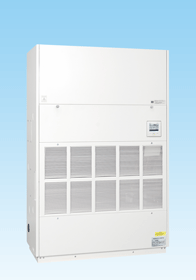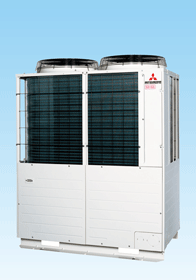 Indoor unit of ASV Series                  Outdoor unit of ASV4 Series
---
About MHI Group
Mitsubishi Heavy Industries (MHI) Group is one of the world's leading industrial groups, spanning energy, smart infrastructure, industrial machinery, aerospace and defense. MHI Group combines cutting-edge technology with deep experience to deliver innovative, integrated solutions that help to realize a carbon neutral world, improve the quality of life and ensure a safer world. For more information, please visit www.mhi.com or follow our insights and stories on spectra.mhi.com.