MHIEC Receives Order from Kouza Clean Association In Kanagawa Prefecture for MSW Incineration Plant With 245 Tons/day Capacity
-- Order also Includes 20-year Plant Operation --
Tokyo, July 27, 2015 - Mitsubishi Heavy Industries Environmental & Chemical Engineering Co., Ltd. (MHIEC), a group company of Mitsubishi Heavy Industries, Ltd. (MHI), has received an order from the Kouza Clean Association, an organization encompassing three municipalities in central Kanagawa Prefecture, for the construction and operation of a municipal solid waste (MSW) incineration plant. The order calls for the construction of two stoker* type incinerators with capacity of 245 tons per day (tpd), as well as operation of the facility for a period of twenty years. The total value of the order is 28.9 billion yen (excluding taxes). The new plant is scheduled to go onstream in April 2019.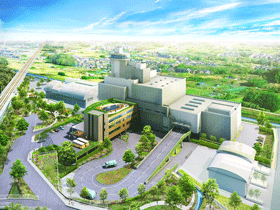 The Kouza Clean Association handles waste and night soil treatment for the cities of Ebina, where it is based, Zama and Ayase. The order placed to MHIEC calls for the construction and operation in Ebina's Hongo district of two stoker incinerators, each offering 122.5tpd capacity, capable of operating 24 hours a day. A "DBO" arrangement is to be adopted: i.e., design, build and operation of the new municipal facility will be performed by companies from the private sector. The new plant is to replace an existing superannuated facility currently operating two incinerators with capacities, respectively, of 150 and 200tpd.

Construction of the newly ordered plant will be performed by a joint venture to be formed between MHIEC and Fujita Corporation. Plant operation will be handled by Kouza Eco-Creation Co., Ltd., an entity founded in Ebina with financial backing from MHIEC and Jukan Operation Co., Ltd., a Yokohama-based MHIEC group company. Also participating in the construction work and plant operation will be a newly forming group of eight local companies from Ebina and surrounding cities. Their inclusion reflects an initiative to carry out the project in close association with local businesses.

The open tender system adopted for the Kouza project involved comprehensive evaluation not only of the candidate firms' bid prices but also such factors as their technological capability and plant operation knowhow. The proposal submitted by the MHIEC group received outstanding marks from the evaluation committee specially set up for the purpose by the Kouza Clean Association.

MHIEC has a top-class track record in the construction and operation of waste management facilities both in Japan and overseas. Leveraging this strength, the company today is proactively advancing solutions that target stable management and recycling of waste, covering all aspects from construction through operation, in its quest to make robust contributions to the creation of a recycling-based society.

* A stoker incinerator is a common feature of MSW incineration plants. In a stoker incinerator, MSW is combusted as it moves along on a grate surface element made of heat-resistant castings.
---
About MHI Group
Mitsubishi Heavy Industries (MHI) Group is one of the world's leading industrial groups, spanning energy, smart infrastructure, industrial machinery, aerospace and defense. MHI Group combines cutting-edge technology with deep experience to deliver innovative, integrated solutions that help to realize a carbon neutral world, improve the quality of life and ensure a safer world. For more information, please visit www.mhi.com or follow our insights and stories on spectra.mhi.com.