MHI-TES Develops Improved Platform Doors Accommodating Railway Cars with Varying Numbers of Doors and Door Locations
-- Verification Now Under Way of "Dokodemo Door®" System Offering Superlative Safety and Flexibility -
Tokyo, April 22, 2015 - Mitsubishi Heavy Industries Transportation Equipment Engineering & Service Co., Ltd. (MHI-TES), a group company of Mitsubishi Heavy Industries, Ltd. (MHI), has developed an improved platform door system, dubbed "Dokodemo Door®," that can flexibly accommodate the operation of railway cars with varying numbers of doors per car (2 to 4) and door locations. The new system is now undergoing verification testing at the Wadaoki Plant of MHI's Mihara Machinery Works in Hiroshima. Among the new system's improvements are enhanced safety features and greater adaptability to shifting door locations when a train stops. Also, total system costs, from installation through operation, have been reduced through the development of lighter doors and shorter time required for installation.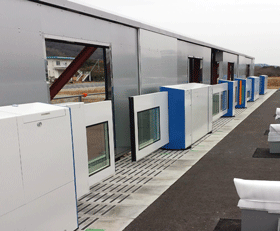 The new Dokodemo Door system was developed with assistance provided by the Japanese Ministry of Land, Infrastructure, Transport and Tourism (MLIT) under its Railway Development Fund subsidy program. A number of new safety features have been incorporated. These include area detection sensors that detect people or their belongings, triggering a broadcast warning message and simultaneously preventing the doors from opening or closing; and new projectors or LEDs (light-emitting diodes) in the door casings that contain built-in opening/closing mechanisms, a feature whereby warning messages are projected on the doors' reinforced glass or displayed as LED-configured warning messages.

In addition, the lineup of door types has been expanded with the development of pockets of minimal width, an innovation that not only enables the adoption of telescopic doors but also simultaneously permits wider door openings. When used in combination with doors with casings (no pockets), the new platform door system can accommodate larger variations in the train's stopping positions.

To test the newly developed system, the Wadaoki Plant has been outfitted with a mockup of a railway carriage and a platform-like space, approximately 30 meters long, equipped with a combination of doors with pockets and doors with casings. Plans call for verification testing over the next year, through March 2016, to ascertain the effectiveness of the new system in addressing various issues as a way of promoting further adoption of platform doors in Japan.

According to MLIT, of the near 9,500 railway and monorail stations in Japan, only 593 were equipped with platform doors as of end-September 2014. Under a basic plan on transportation policies adopted by the Diet this February, the number of stations equipped with platform doors is to be increased to approximately 800 by 2020, the year Tokyo will host the Summer Olympic and Paralympic Games. MLIT intends to support that initiative with the development of low-cost platform doors, etc.

The MHI Group has a robust track record in deliveries of platform doors for metro and new urban transportation system stations in Japan. Now, with the addition of the newly improved "Dokodemo Door" system, MHI will make further contributions to a barrier-free society through activities to promote expanded adoption of platform doors that help ensure safe movements by rail by all citizens.

* "Dokodemo Door" means "Anywhere Door" in English.
---
About MHI Group
Mitsubishi Heavy Industries (MHI) Group is one of the world's leading industrial groups, spanning energy, smart infrastructure, industrial machinery, aerospace and defense. MHI Group combines cutting-edge technology with deep experience to deliver innovative, integrated solutions that help to realize a carbon neutral world, improve the quality of life and ensure a safer world. For more information, please visit www.mhi.com or follow our insights and stories on spectra.mhi.com.