MHI to Launch 5 New Models in its FDES Series of Ceiling-suspended, Oil-resistant Packaged Air Conditioners
-- All Models Feature Enhanced Functional Performance and Ease of Installation and Maintenance, and Meet Standards of 2015 Law on Promoting Green Purchasing --
Tokyo, April 17, 2015 - In mid-April Mitsubishi Heavy Industries, Ltd. (MHI) will commence marketing of new models in its FDES Series of ceiling-suspended oil-resistant packaged air conditioners offering outstanding corrosion resistance, ideal for use in commercial kitchens, etc. A total of five new models will be introduced, ranging from a 3-horsepower (hp) single model to a 10hp twin model. All the new models can blow air with pinpoint accuracy, and they meet the latest efficiency standards set under the 2015 Law on Promoting Green Purchasing*. Functional performance and ease of both installation and maintenance have been enhanced with the incorporation of features such as an aluminum filter that can be cleaned using boiling-hot water, enabling repeated usage.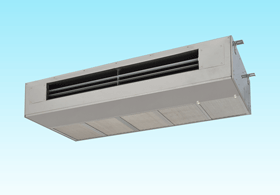 Performance has been improved through the achievement of high efficiency deriving from optimization of the shape and arrangement of the indoor unit's heat exchanger. For enhanced functional performance, spot blower outlets 125 millimeters (mm) in diameter are provided on both sides of the central air blower outlet; and an optional bellows-type duct enables spot cooling or heating. Outside air can be introduced through an opening designed into the unit's rear panel. The ambient range for cooling operation has also been extended to -15°C, enabling the system to be used for cooling operation even in winter.

Ease of maintenance has been improved by placing the primary side of the heat exchanger, which is typically difficult to keep clean, underneath the unit, to accommodate the air conditioner's use in environments susceptible to steam, soot, etc. This arrangement enables cleaning of the heat exchanger from the bottom of the unit without removing the drain pan. Also, a large pipe with an inner diameter of 25mm (VP25) has been adopted for discharging the condensation water from the heat exchanger. For enhanced installation ease, the optional drain-up kit has been modified to permit installation directly within the indoor unit.

Going forward MHI will continue to focus on developing packaged air conditioners, air-conditioning systems for office buildings, and other cooling/heating products that deliver outstanding energy savings and superior operating ease, as the company aims for sustained expansion of its air conditioner business.

* Officially known as the "Law concerning the Promotion of Procurement of Eco-Friendly Goods and Services by the State and Other Entities." The new standards set targets in nine categories for residential air conditioners and 16 categories for industrial-use air-conditioning systems, according to capacity and unit type.
---
About MHI Group
Mitsubishi Heavy Industries (MHI) Group is one of the world's leading industrial groups, spanning energy, smart infrastructure, industrial machinery, aerospace and defense. MHI Group combines cutting-edge technology with deep experience to deliver innovative, integrated solutions that help to realize a carbon neutral world, improve the quality of life and ensure a safer world. For more information, please visit www.mhi.com or follow our insights and stories on spectra.mhi.com.