Mitsubishi Heavy Industries and Toho Gas Jointly Develop New 450kW Gas Cogeneration System Offering World's Highest Efficiency Level (42.0%) in its Class
Tokyo, March 18, 2015 - Mitsubishi Heavy Industries, Ltd. (MHI) and Toho Gas Co., Ltd. have jointly developed a new 450-kilowatt (kW) gas cogeneration system. The new product will be launched into the Japanese market by both companies on April 1.
The newly developed gas cogeneration system, which is based on a previously introduced 380kW system, achieves an outstanding power output of 450kW, made possible primarily through optimization of combustion and the adoption of components enabling superior efficiency. Generating efficiency is 42.0%, the world's highest level in the 400kW class, and overall efficiency is a robust 81.5%.1

In addition to these achievements in power output and generating efficiency, increased merits in terms of both initial costs and running costs were pursued through the elimination of the need for denitrification equipment; together these benefits enable a faster investment return than with the 380kW system. A 20% reduction in installation space requirements has also been achieved by trimming the physical dimensions of the main unit.

In the wake of the Great East Japan Earthquake, customer interest in gas cogeneration systems has strengthened not only because of their extremely efficient use of energy but also for their contributions to achieving power security and saving power in line with business continuity plans (BCP). Customers are also showing greater interest in achieving higher performance levels.

Going forward, MHI and Toho Gas intend to propose the new 450kW gas cogeneration system for adoption in hospitals, commercial facilities, office buildings, factories, etc. as a way of promoting the further adoption of these efficient systems, while simultaneously making positive contributions to saving energy and easing burdens on the environment.
External View of the Gas Engine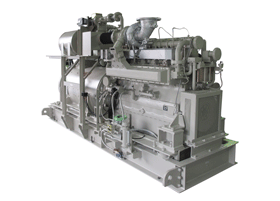 Main Features
 1) World's highest level of generating efficiency in the 400kW class: 42.0%
The newly developed 450kW gas engine achieves near 20% higher output and the highest level of generating efficiency in its class: 42.0% - made possible largely through optimized combustion and the adoption of a water-cooled turbocharger and high-efficiency generator. In addition the intercooler, which cools the fuel-air mixture and raises air density, has been upgraded from the earlier one-stage type to a two-stage configuration. By recovering heat from the first stage, the two-stage intercooler has increased overall efficiency to 81.5%.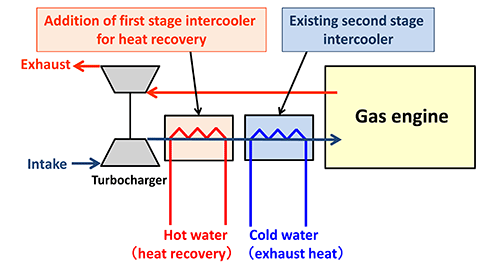 2) Faster return on investment than earlier systems
By simultaneously achieving higher efficiency, increased output and low level of emissions of nitrogen oxides (NOx)
2
that enables elimination of denitrification equipment, the new gas cogeneration system reduces initial costs and increases running cost merits. As a result, the customer stands to benefit from a quicker return on system investment.
3) 20% reduction in installation space requirements
Thanks to the adoption of a new package layout and optimal equipment layout, installation space needs have been trimmed by 20%.
Major Specifications
Item
Unit
Steam/Hot Water Type
Hot Water Type
Package model
 
SGP M450-S
SGP M450-W
Engine model
 
GS6R2-PTK
GS6R2-PTK
Generating output
kW
450
450
Rated engine speed
rpm
1,200
1,200
NOx
(engine outlet)2
ppm
(at O2 0%)
<200
<200
Generating efficiency3
%
42
42
Steam recovery efficiency3
%
17.5
--
Hot water recovery efficiency3
%
21.0
39.5
Overall efficiency3
%
80.5
81.5
Dimensions of enclosure
(width x height x depth)
mm
2,880 x 3,754 x 7,875
2,350 x 4,050 x 6,210
Notes:
1 With the hot water type (SGP M450-W), which uses all recovered heat for hot water. The overall efficiency of the hot water and steam supply type (SGP M450-S) will be 80.5%.
2 Regulation values vary according to area of installation. Denitrification equipment may be required in some cases.
3 Efficiency values assume use of city gas 13A with a lower heating value (LHV) of 41.65MJ/Nm3 and tolerance of +5%.
---
About MHI Group
Mitsubishi Heavy Industries (MHI) Group is one of the world's leading industrial groups, spanning energy, smart infrastructure, industrial machinery, aerospace and defense. MHI Group combines cutting-edge technology with deep experience to deliver innovative, integrated solutions that help to realize a carbon neutral world, improve the quality of life and ensure a safer world. For more information, please visit www.mhi.com or follow our insights and stories on spectra.mhi.com.