MHI Receives 10-Year Operations and Maintenance (O&M) Renewal and Extension Contract for AeroTrain Automated People Mover (APM) system at Washington Dulles International Airport in the United States
Tokyo, December 2, 2014 - Crystal Mover Services, Inc. (CMS), a group company of Mitsubishi Heavy Industries, Ltd. (MHI) based in Miami, Florida, has concluded an agreement with the Metropolitan Washington Airports Authority (MWAA) renewing and extending Operations and Maintenance (O&M) services for the AeroTrain Automated People Mover (APM) delivered to the Washington Dulles International Airport in December 2009. The renewal and extension agreement covers a period of ten years commencing in December 2014, with the contract value totaling US$136 million (approx. 14.3 billion yen).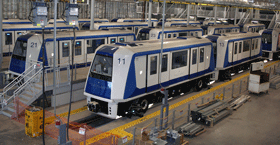 The AeroTrain APM system in operation at Washington Dulles International Airport has a route length of 4.4 miles (approx. 7.1 kilometers) connecting 4 stations. The construction order for the system was received jointly with Sumitomo Corporation, and passenger service commenced in January 2010. Recently the system's service availability level has annually averaged to 99.94%, a figure attesting to the AeroTrain's excellent safety and reliability.

CMS is currently performing O&M services for all APM systems delivered by MHI to the United States. CMS's capitalization derives from two sources: Mitsubishi Heavy Industries America, Inc. (MHIA), an MHI group company based in New York City, and Sumitomo Corporation. Within the United States, MHI provides comprehensive services – from system supply to O&M - for its APMs in operation at airports in Miami, Washington/Dulles and Atlanta. This fully integrated capability enables consistently high service availability levels and outstanding customer trust at all sites. In recognition of this superlative track record, during 2014 MHI won contracts for construction and O&M of new APM systems at both Orlando international Airport and Tampa International Airport.

Going forward, MHI will continue to strive to attract further orders based on the reliability of its APM systems already in operation, coupled with its capacity to provide the complete spectrum of services from construction to O&M.
---
About MHI Group
Mitsubishi Heavy Industries (MHI) Group is one of the world's leading industrial groups, spanning energy, smart infrastructure, industrial machinery, aerospace and defense. MHI Group combines cutting-edge technology with deep experience to deliver innovative, integrated solutions that help to realize a carbon neutral world, improve the quality of life and ensure a safer world. For more information, please visit www.mhi.com or follow our insights and stories on spectra.mhi.com.