MHI Develops Deck Crane with Synchronized Control Functions
-- First Delivery Completed of Three 50-ton Units Enabling Loading of 150m-long Cargo --
Tokyo, October 28, 2014 - Mitsubishi Heavy Industries, Ltd. (MHI) has completed delivery of the first three units of a 50-ton deck crane featuring a newly-developed synchronized control system, for a long-cargo transport ship constructed by Shin Kurushima Dockyard Co., Ltd. The synchronized control system of the three deck cranes enables safe and efficient loading and unloading of long cargo, playing a major role in the world's longest long-cargo transportation project.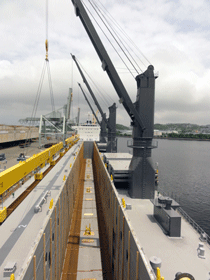 The synchronized control system allows simultaneous and uniform control of three deck cranes - which have been controlled only independently - by a single operator, for hoisting and jib elevation tasks. In addition to operations from the operator's cabin, operations can also be controlled remotely on deck. A (patent-pending) function that enables switching of the hook control reference position to either the hull or wharf is also provided. This function enables smooth cargo handling irrespective of the hull's inclination.

Besides the safety features provided on standard cranes, the new 50-ton deck cranes are equipped with precaution alarms by a buzzer and lamps depending on the applied load and an automatic stop function as an overload protection system. The new deck cranes also have a "deviation-overrun" function that halts operation when the deviation of the hook position or the jib angle between the three cranes exceeds its tolerance, as well as a function to provide operation priority to the controller of either the cabin or the deck.

The newly delivered cranes are installed at roughly 50-meter (m) intervals along the approximately 155m-long hold of a ship having an overall length near 190m. The newly outfitted ship enables loading and unloading of 150m-long cargo at full size, without dividing it into parts. This unprecedented capability will contribute to the stable and efficient transport of long cargo at a time when the demand for such long cargoes is increasing worldwide.

Leveraging the incorporation of the synchronized control technology in its deck cranes, going forward MHI will focus on marketing new solutions for enhancing efficiency in the marine transport industry.
---
About MHI Group
Mitsubishi Heavy Industries (MHI) Group is one of the world's leading industrial groups, spanning energy, smart infrastructure, industrial machinery, aerospace and defense. MHI Group combines cutting-edge technology with deep experience to deliver innovative, integrated solutions that help to realize a carbon neutral world, improve the quality of life and ensure a safer world. For more information, please visit www.mhi.com or follow our insights and stories on spectra.mhi.com.