MHI Develops "ABLASER" Laser Micromachining System achieving High-speed, High-precision Machining with Incorporation of Optical Heads and Other Proprietary Technologies
Tokyo, October 27, 2014 - Mitsubishi Heavy Industries, Ltd. (MHI) has developed a laser micromachining system, dubbed the "ABLASER," as its first product in the laser processing machine business. The adoption of a proprietary high-precision optical system and other innovations enable high-speed, high-precision drilling and other machining applications requiring superior accuracy. MHI will commence sales activities within the current fiscal term ending next March, and looks to attract broad-based demand for the ABLASER by proposing solutions for a wide array of diverse machining situations.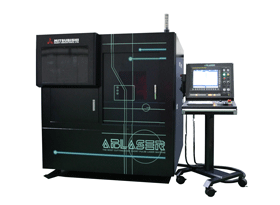 The ABLASER adopts a high-quality laser source that continuously irradiates an ultra-short pulse laser with a pulse duration below 10 picoseconds (pico = 10-12). It features a laser head that employs a high-precision lens, prism and other components to refract and rotate the laser beam at will. Thermal affection on the processing surface is reduced by ablating the machining area with high peak power. When used for drilling, the ABLASER achieves dimensional accuracy exceeding that of electric discharge machining, enabling fast machining of difficult jobs such as negative tapered holes (in which the bore widens conically as the hole deepens), oval-shaped holes, etc.

Granite is applied to the ABLASER's major structural components to maintain outstanding anti-vibration effect and minimal thermal displacement. A precision scale is also installed in the positioning component. Together these features achieve high quality surpassing that of laser machines available until now. In addition, the adoption of 5-axis control as found in advanced machine tools facilitates machining onto curved surface complex shapes.

In preparation for full-scale entry in the laser machine business, in April 2014 MHI set in place within the Solution Technology Center of its Machine Tool Division a system for one-stop development of proprietary laser machines bringing together its relevant world-class technologies cultivated in-house over many years. The ABLASER was developed as a commercial product under this new system, working in liaison with the company's various domains, divisions, and research & development centers.

MHI will be exhibiting the ABLASER at the 27th Japan International Machine Tool Fair (JIMTOF 2014) to be held at Tokyo Big Sight (Ariake) from October 30 (Thu) through November 4 (Tue). Drilling and other machining samples will be introduced, offering visitors new proposals for adoption at their workplaces. MHI will also use the occasion to present its other proprietary laser-related technologies developed in-house; these include its hybrid laser welding system that achieves outstanding finishing precision by coaxially performing arc welding by atmospheric discharge, and its high-efficiency laser cutting head that achieves clean, highly efficient cutting optically.

Going forward MHI will continue to pursue the development of new products responding to advanced needs in laser cutting, expanding its laser machine operations into a new pillar of its machine tool business.
---