MHIVA, Commercial Aircraft Manufacturer in Vietnam, Launches New Factory with Production of Passenger Doors for Boeing 777
-- Shipment of 1,000th Inboard Flap for Boeing 737 Also Marked --
Tokyo, October 22, 2014 - MHI Aerospace Vietnam Co., Ltd. (MHIVA), a group company of Mitsubishi Heavy Industries, Ltd. (MHI), has completed the construction of a new manufacturing factory in Hanoi, and production of passenger doors for the Boeing 777 got under way on October 22. Simultaneously MHIVA marked the shipment of its 1,000th inboard flap for the Boeing 737.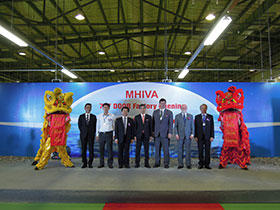 To celebrate these achievements, a ceremony was held today at the newly completed factory. Among the many attendees were: Katsuro Nagai, Economic Minister of the Japanese Embassy in Vietnam; Mark Lambert, Acting Deputy Chief of Mission of the U.S. Embassy in Vietnam; Do Nhat Hoang, Director General of the Foreign Investment Agency under Vietnam's Ministry of Planning and Investment; and Ralph L. "Skip" Boyce, President of Boeing Southeast Asia. On hand representing MHI was Shigefumi Tatsumi, Senior Vice President and Senior General Manager of the Commercial Airplanes Division, in the Commercial Aviation & Transportation Systems business domain.

"The MHIVA 777 door factory opening and 1000th 737 inboard flap delivery milestones we celebrate today are a recognition of the skilled local workforce and proven high quality manufacturing performance that MHIVA and Vietnam bring to the table," said Skip Boyce, president of Boeing Southeast Asia. "This stringent requirement for high quality manufacturing capability will only continue to grow in importance as Boeing ramps up production rates to keep up with global aircraft demand."

The newly completed factory has a building area of 6,500 square meters (m2). It was constructed as an addition to MHIVA's head office in the Thang Long Industrial Park (TLIP) on the outskirts of Hanoi. Initially the factory will only undertake structural assembly of passenger doors for the Boeing 777, a task transferred from MHI's Nagoya Aerospace Systems Works. Subsequently MHIVA will take full responsibility for total assembly work of the passenger doors.

Boeing's 777 family of jets has been well received by passengers, and as the air transport market's leading large-size twinjet passenger aircraft more than 1,200 units have been produced since the first flight in 1994. MHI has been a risk-sharing partner in the development and mass production of the series, being responsible not only for passenger doors but also for aft fuselages. In 1993 the company delivered parts for the very first 777.

Production of inboard flap for the Boeing 737 has been undertaken at MHIVA's existing factory (building area: 4,500m2) since the facility was completed in 2009. It has now surpassed 1,000 shipsets. Initially MHIVA only handled partial assembly work; later, production processes were gradually expanded, until today the company is responsible for total assembly of the inboard flap.

MHIVA was established by MHI in 2007 as one of various initiatives targeting the establishment of an efficient supply chain as a way of enhancing the company's competitive strength. MHI is presently undertaking numerous large-scale commercial aircraft projects - production of composite-material wing boxes for the midsize Boeing 787 passenger jet; production of the recently rolled-out MRJ (Mitsubishi Regional Jet), Japan's first domestically developed passenger jet; and participation in the development and mass production of the 777X, successor to the Boeing 777 - and the company is taking steps to build up its production systems and expand production capacity. The launch of the new factory at MHIVA is an integral part of these initiatives.

Going forward, MHI, with support from Boeing, will pursue coordinated liaison between MHIVA and its domestic bases in a quest to further develop its commercial aircraft operations.
---
About MHI Group
Mitsubishi Heavy Industries (MHI) Group is one of the world's leading industrial groups, spanning energy, smart infrastructure, industrial machinery, aerospace and defense. MHI Group combines cutting-edge technology with deep experience to deliver innovative, integrated solutions that help to realize a carbon neutral world, improve the quality of life and ensure a safer world. For more information, please visit www.mhi.com or follow our insights and stories on spectra.mhi.com.