MHI-MME Agrees to License Propeller Production and Marketing to Chinese Manufacturer of Marine Propellers
-- First Licensing Agreement Applying to Propellers --
Tokyo, October 21, 2014 - Mitsubishi Heavy Industries Marine Machinery & Engine Co., Ltd. (MHI-MME), a group company of Mitsubishi Heavy Industries, Ltd. (MHI), has concluded a licensing agreement with Changzhou Zhonghai Marine Propeller Co., Ltd. (CZZH) under which MHI-MME provides CZZH the manufacturing and marketing rights to its marine propellers. MHI-MME has previously licensed a variety of its marine machinery to Chinese companies - including 2-stroke low-speed engines, marine auxiliary boilers, marine turbines and steering gears - but the newly concluded agreement marks the first time the company will be licensing its propellers.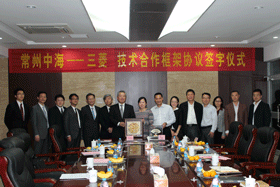 A signing ceremony was held at CZZH on October 16. The event was attended by MHI-MME President & CEO Kazuo Soma and, representing CZZH, General Manager Jiang Jun Hong.

The licensing agreement applies to the complete lineup of Mitsubishi Advanced Propellers (MAP) designed by MHI-MME, including the Mark-W, an advanced model delivering outstanding propulsive efficiency. The agreement was reached in manifestation of the meshing of the two signatories' aims: CZZH looking to respond to the Chinese market's demand for high-performance propellers with fully integrated capabilities from design through manufacture, and MHI-MME seeking to achieve expanded penetration of Mitsubishi brand propellers in the fast-growing Chinese market for marine products.

CZZH is an independent corporation established in 1992 and headquartered in the city of Changzhou in Jiangsu Province. Initially the company launched operations manufacturing ingots, but in 2006 it shifted to production of propellers. In March 2014 CZZH brought a new manufacturing plant onstream, giving the company a production capacity in propellers of near 5,000 tons per year. Employees number approximately 180.

MHI-MME offers one of the world's most expansive lineups of marine machinery and engines, with offerings including 2-stroke low-speed engines, MET turbochargers, propellers, marine boilers and turbines, deck cranes, deck machinery, fin stabilizers and steering gears. The company's products enjoy an outstanding reputation for superlative performance combined with high reliability.

Going forward MHI-MME aims to maintain and further develop its friendly collaborative relationship with CZZH, in a quest for Mitsubishi brand propellers to capture an expanded share of China's enormous market for marine products.
---
About MHI Group
Mitsubishi Heavy Industries (MHI) Group is one of the world's leading industrial groups, spanning energy, smart infrastructure, industrial machinery, aerospace and defense. MHI Group combines cutting-edge technology with deep experience to deliver innovative, integrated solutions that help to realize a carbon neutral world, improve the quality of life and ensure a safer world. For more information, please visit www.mhi.com or follow our insights and stories on spectra.mhi.com.