MHI Develops "Mitsubishi Super Skiving System" enabling High-speed, High-precision Cutting of Internal Gears at Low Cost
-- Achievements Derive from Newly Developed Proprietary Barrel-shaped, multiple-cutting-edge Tool -
Tokyo, October 20, 2014 - Mitsubishi Heavy Industries, Ltd. (MHI) has completed development of the "Mitsubishi Super Skiving System" for machining internal gears with high speed and outstanding precision. The new system has overcome technical issues characteristic of conventional skiving by use of an MHI developed, innovative barrel-shaped multiple-cutting-edge rotary tool (patent pending), enabling mass production of difficult-to-machine internal gears. In addition, longer tool life, combined with shorter machining times, enables significant reductions in production costs. MHI is aiming to commence marketing of the new tool and dedicated skiving machine in April, 2015.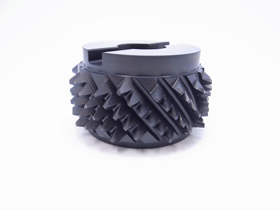 The main breakthrough achievement for the Mitsubishi Super Skiving System was the development of the "Super Skiving Cutter," a world's first for a tool of its kind. It was designed in-house by applying skiving technology to MHI's barrel shaped grinding wheel, also a world first, developed for MHI's ZI20A gear grinding machine. A machine designed for mass-production applications in 2009.

MHI has also developed new cutting simulation software specifically for skiving's needs. Through precise simulation of cutting forces applied to the tool's cutting blades, long tool life is realized in combination with maximum process cutting speed matching that of the skiving machines capabilities. By offering an integrated package consisting of Mitsubishi's newly developed tool, simulation technology, skiving machine and machining software, users can realize optimal capabilities for the machining of internal gears.

Skiving is a cutting technology whereby a pinion type cutter or other rotary tool is engaged with a workpiece at a crossed-axes angle, and synchronously rotated together. At the points where the two contact, the effect of the crossed-axes angle generates a sliding velocity of the tool in the axial direction, resulting in high-speed machining. Use of a pinion cutter type tool, however, typically makes the cutting (skiving) angle obtuse – a drawback that impedes improvements in cutting precision and also causes significant tool wear.

With MHI's newly developed tool, the adoption of a barrel shape, averts interference with the workpiece and prevents the cutting angle from becoming obtuse. As a result, a large crossed-axes angle can be achieved, enabling the realization of cutting speeds and precision levels surpassing those of pinion-cutter type skiving. It is said to even exceed the corresponding levels achievable with a gear shaper. Furthermore, the adoption of multiple cutter blades more than triples the standard tool life.

The new MHI Super Skiving System will be exhibited at the 27th Japan International Machine Tool Fair (JIMTOF) to be held at Tokyo Big Sight (Ariake) from October 30 (Thu) through November 4 (Tue). Visitors will also be given a demonstration of the new system's cutting capabilities.

Going forward, MHI will continue to leverage its dual strengths in diverse gear cutting machines and cutting tools and apply them to the development and provision of state-of-the-art gear cutting systems and technologies.
---