MHI Develops "BH50-17" Double-headed Helical Broaching Machine Achieving High Speed and Outstanding Precision
-- Applying Technologies of Federal Broach (USA) to Develop Products for the Japanese and Asian Markets --
Tokyo, October 6, 2014 -- Mitsubishi Heavy Industries, Ltd. (MHI) has developed a double-headed helical broaching machine, dubbed the "BH50-17," capable of machining of a workpiece in 22 seconds at the fastest, the shortest time in its class. The BH50-17 also can perform simultaneous machining of two workpieces of different types at a time. The new unit incorporates advanced technologies of Federal Broach Holdings, LLC, an American company MHI acquired in April 2012. By keeping the machine height to 5 meters (m), the BH50-17 achieves a compact size suitable for installation in standard factories in the Asian markets, including Japan. Going forward MHI will aggressively target global markets, with a focus on Asia and the home market, by supplying the BH50-17 together with broach cutters for use in the manufacture of helical ring gears. a type of internal gear used in applications including automotive transmission systems.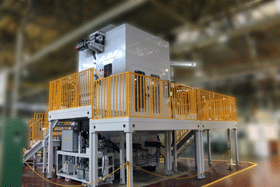 Helical broach machines are machine tools that perform machining of internal helical gears, i.e. ring-shaped gears with oblique tooth leads on the inner surfaces. The helical broach cutters, a long bar-shaped cutting tool, draws material out of a workpiece as it rotates, to form an oblique tooth leads.
The BH50-17 was developed to meet usage conditions in Japan and Asia based on a model that Federal Broach has already delivered in significant volumes primarily to the leading U.S. automakers. The adoption of 52-kilowatt (kW) high-power motors enables broaching at a rate of 25 tons per axis, while the adoption of a square (box) guide in the straight axis has enhanced mechanical rigidity and achieved high-speed, high-precision machining. The BH50-17 also features two servo motors that enable independent control of two tables, a configuration that permits simultaneous double-headed machining of two different workpieces. The achievement of a compact machine enables easy installation without a pit. The maintenance ease of the machine also has been enhanced through adoption of a crane for changing two different types of tool that enables smooth tool changes, as well as thorough cutting dust treatment, etc.
Helical ring gears form the outer ring of planetary gears. They are expected to come into increased demand as automobile automatic transmissions, hybrid vehicle gearboxes, stepless (continuously variable) transmission systems, etc. become increasingly complex and production volumes expand. Helical broach machining is well suited to high-speed, large-volume production of internal gears, and also makes for easy quality control. Because workpiece finishing is significantly affected by factors such as precision of the helical broach cutters, related manufacturing expertise and compatibility with the broaching machine, companies capable of supplying broach cutters and broaching machines as a set are in a prime position to take the lead in market competition.
Federal Broach is one of the world's leading producers of both broach cutters and broaching machines. Roughly 80% of the company's sales presently derive from the North American and European markets. In view of the potential for growth in the Chinese and Southeast Asian markets, MHI took the decision to transfer Federal Broach's technologies to its Machine Tool Division's Main Plant in Ritto City, Shiga Prefecture. Preparations are now going forward toward increasing production and expanding sales, and the development of the BH50-17 is the first step in preparing products suited to the newly targeted markets.
The new BH50-17 will be introduced in a panel display at the forthcoming Japan International Machine Tool Fair (JIMTOF) to take place at Tokyo Big Sight (Ariake) from October 30 through November 4.
MHI is one of only a few companies in the world that handle both gear cutting machines and their cutting tools. By augmenting this strength with superiority in the supply of both broaches and broaching machines enabled by the company's link with Federal Broach, going forward MHI will adopt an aggressive approach to the development of diverse products and solutions for use on manufacturing floors around the world.
Specifications of the BH50-17 Helical Broaching Machine

| | |
| --- | --- |
| Control system | CNC (FANUC) |
| Number of machinable workpieces | 2 (simultaneous) |
| Broach force | 50 tons (25 tons per broach) |
| Number of ram-driven screws | 2 |
| Ram stroke | 1.7 m |
| Lifter stroke | 1,200 mm |
| Broach tool length | 1,524 - 1,930 mm (60 - 76 in) |
| Feed speeds | Cutting: 1.8 - 14 m/min, Return: 14 m/min |
| Feed motors | 52kW × 2 |
| Maximum workpiece diameter | Φ 200 mm |
| Inner diameter of bolster | 160 mm |
| Workpiece clamping mechanism | Provided |
| Machine height | 5,000 mm |
| Table height | 1,880 mm |
| Guide shape | Square |
| Machine weight | 40 tons |
---