MHI Completes Construction of "MIHARA Test Center," Japan's First Comprehensive Railway Transportation System Test Facility
-- Openly Available for Use by Other Companies, Organizations, Etc. In Line with National Export Strategy --
Tokyo, October 2, 2014 - On October 2 Mitsubishi Heavy Industries, Ltd. (MHI) launched its operation of newly completed MIHARA Test Center, Japan's first comprehensive railway transportation system verification facility, at the Wadaoki Plant of the company's Mihara Machinery Works in Hiroshima Prefecture. The new test center, which includes a 3.2 kilometers (km) long loop track, has been designed to meet the global standards as part of MHI's drive and role to promote exports of urban transportation infrastructure. The new facility will be made open to public for enabling the use by outside entities both to public and private organizations.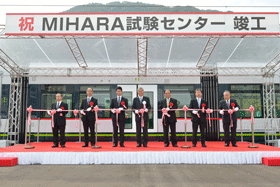 To celebrate the start of operations, a ceremony was held on October 2 at the site attended by a large number of government officials and representatives of associated institutions, organizations, universities and railway companies. Attendees included Governor of Hiroshima Prefecture Hidehiko Yuzaki, Mihara City Mayor Yoshinori Tenma and MHI Chairman Hideaki Omiya. Following the ceremony approximately 130 people in attendance - along with 30 local elementary school children - were invited to participate in a trial run on the test center's loop track riding in an ultra-low-floor railway carriage designed for the Hiroshima Electric Railway Co., Ltd. The carriage was offered as a courtesy by the Hiroshima Electric Railway Co., Ltd. for the celebration.

In total the MIHARA Test Center has three lines: the newly launched railway test track plus lines for an automated guideway transit (AGT) system and for a high-speed surface transport (HSST) magnetic levitation system. The railway test track, which includes an elevated section, adopts rails matching European specifications, and global standards are used for the curve radius, gradient, etc. A dual-gauge rail configuration is provided: global standard of 1,435 millimeters (mm), the narrow 1,067mm gauge commonly used by the Japanese railway entrepreneurs and the third rail system. The track is also designed to accommodate 1-meter (m) gauge sleepers. Comprehensive tests incorporating noise and vibration at curves, signals, communications, power, operating control, etc. can be performed under the maximum running speed of 100km per hour

Today the global market for railway systems is very robust whereas the competition among system suppliers is intensifying due to the new competitors from newly emerging economies. Also, recently demand is calling for more sophisticated signal and operation control and accommodation of complex route layouts in urban areas, and as a result high-level system integration capability to satisfy these requirements has become a key factor for winning the competition.

The MIHARA Test Center is a facility constructed for responding to these market trends. The center will function as a support tool for accommodating international specifications and for developing corresponding products as a way of enhancing the competitiveness of Japan's railway systems - a pillar of the country's infrastructure export strategy. At the same time the facility will also contribute to the further enhancement of Japan's acclaimed railway system maintenance and operation capabilities.

Through operation of the newly completed MIHARA Test Center, going forward MHI will seek to enhance its global competitiveness as a transportation system integrator. It will also fulfill its role as a leading company in this field and aggressively promote the superiority of Japanese railway systems to the global market.
---
About MHI Group
Mitsubishi Heavy Industries (MHI) Group is one of the world's leading industrial groups, spanning energy, smart infrastructure, industrial machinery, aerospace and defense. MHI Group combines cutting-edge technology with deep experience to deliver innovative, integrated solutions that help to realize a carbon neutral world, improve the quality of life and ensure a safer world. For more information, please visit www.mhi.com or follow our insights and stories on spectra.mhi.com.