MHI, Mitsubishi Corporation and GAP Insaat to Build Large-scale Fertilizer Plant for Turkmenhimiya, a State-owned Chemical Company in Turkmenistan
Tokyo, August 19, 2014 - Mitsubishi Heavy Industries, Ltd. (MHI), working jointly with GAP Insaat Yatirim ve Dis Tiscaret A.S., a Turkish construction company and Mitsubishi Corporation, will build a large scale ammonia and urea fertilizer production plants for Turkmenhimiya (TH), a state-owned chemical company in Turkmenistan. The EPCC (engineering, procurement, construction and commissioning) contract with TH will be soon signed. The fertilizer plant is slated to go on stream in June 2018.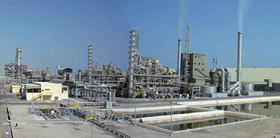 The fertilizer plant to be ordered, the largest in Turkmenistan, will be built in Garabogaz, a city on the coast of the Caspian Sea in the northwest region of the country. Utilizing Turkmenistan's abundant natural gas resources as feedstock, the plant will have the capacity to produce 2,000 mtpd (metric tons per day) of ammonia and 3,500 mtpd of urea supergranules.

The order contract will cover fertilizer plant design, equipment procurement and construction, and infrastructure improvements to the surrounding area such as road construction and temporary pier construction, as well as the construction of fertilizer product shipment facilities. MHI will be responsible for basic and detailed fertilizer plant design, manufacture and procurement of equipment, and plant commissioning.

Turkmenistan, which is ranked fourth in the world in natural gas reserves, has expanded its economy steadily in recent years, and has aggressively promoted the development of high-value-added natural gas products and the diversification of gas exports and sales channels. The fertilizer plant construction project is one of the country's key initiatives, and all of the fertilizer produced there will be exported to other countries.

Since the delivery of its first fertilizer plant in 1958, MHI has completed numerous such plants around the world. Recent large-scale fertilizer plant projects ordered include an ammonia/urea plant in Algeria in 2008, an ammonia/urea/methanol concurrent production plant in the Republic of Tatarstan in 2010, an ammonia/urea plant in Malaysia in 2011, and an ammonia plant in Russia in 2013. It is this impressive track record that has enabled MHI to gain wide recognition and secure the latest order.

Going forward, MHI will further strengthen its marketing activities to secure successive orders for synthesis gas and petrochemical plant projects, and enhance its presence in the fields of fertilizer production and fertilizer plant development.
---
About MHI Group
Mitsubishi Heavy Industries (MHI) Group is one of the world's leading industrial groups, spanning energy, smart infrastructure, industrial machinery, aerospace and defense. MHI Group combines cutting-edge technology with deep experience to deliver innovative, integrated solutions that help to realize a carbon neutral world, improve the quality of life and ensure a safer world. For more information, please visit www.mhi.com or follow our insights and stories on spectra.mhi.com.