Production and Sales of 16-Cylinder Diesel and Gas Engines Top 10,000 Units
-- Milestone Achieved 24 Years after Initial Launch in 1989 --
Tokyo, July 7, 2014 - Production and sales of Mitsubishi Heavy Industries, Ltd.'s (MHI) core 16-cylinder engines, diesel and gas models combined, have reached a landmark 10,000 cumulative units. Originally launched in 1989, the company's 16-cylinder engines reached this major milestone in 24 years in reflection of their robust reputation for outstanding power and fuel efficiency. Leveraging this latest achievement, going forward MHI will continue to expand its lineup of high-performance engines in pursuit of further sales growth.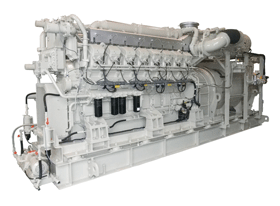 To mark the attainment of 10,000 units produced and sold, on July 4 MHI held a ceremony at its Sagamihara District Main Plant in Kanagawa Prefecture where the engines are manufactured. The ceremony was attended by a large number of users of the company's engines, sales representatives and MHI personnel involved in related operations.

MHI's 16-cylinder engines are available in two series: the "S16R Series" of diesel engines and the "GS16R Series" of gas engines. Development of diesel offerings came first, and then marine diesel engines featuring superlative economic advantages were launched, targeting adoption in high-speed boats to replace the gas turbine engines that were mainly used at that time. Gas engines were developed next, resulting in a broad lineup of products for increasingly diverse applications and users. Combined, the portfolio of MHI's engines ranges in output from 1,000 to 2,000 kilowatts (kW).

Currently MHI is engaged in the development of a new type of diesel engine for the S16R Series responsive to today's increasingly stringent gas emission standards. The new engines will adopt a common rail injection system* electronic control system enabling reduced emissions of harmful substances in exhaust gas. Through synergy merits with aggressive sales activities, the company will focus on expanding both its domestic and global market shares.

* Note: The common rail injection system is a new fuel-injection system developed to cope with today's increasingly harsh emission standards. Fuel is distributed under high pressure to all cylinders via a common rail, and each cylinder has a fuel injector that precisely controls the injection amount and timing electronically. The optimized fuel combustion resulting from this system contributes to reduced emissions of harmful substances in the engine's exhaust gas.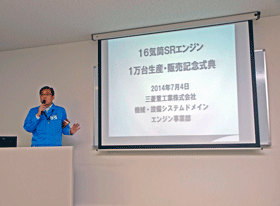 Mr. Mitsuhiko Kawai, Senior General Manager, Engine division,
giving the opening address at the ceremony.
---