MHI Receives First Order through MI LNG For "Sayaendo" Next-generation LNG Carrier
-- 8th Unit to Date, for Delivery to Nippon Yusen --
Tokyo, May 8, 2014 - Mitsubishi Heavy Industries, Ltd. (MHI) has received an order for an LNG (liquefied natural gas) carrier for Nippon Yusen Kabushiki Kaisha (NYK Line) through MI LNG Co., Ltd., a joint venture established with Imabari Shipbuilding Co., Ltd. in April 2013. The order - the first received via MI LNG - is the eighth to date for the "Sayaendo," a next-generation LNG carrier offering superior fuel efficiency developed independently by MHI. Completion and delivery of the ship are scheduled for 2017.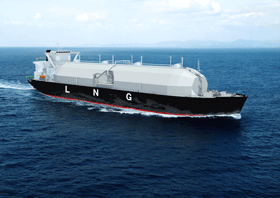 The Sayaendo LNG carrier measures 288.0 meters (m) in length overall (LOA), 48.94m in width, and 11.5m in draft. With gross tonnage of 138,000 (deadweight tonnage: 75,000t), the ship has a service speed of 19.5 knots per hour. Total cargo tank volume is 155,300 cubic meters (m3) (LNG carrying capacity: 153,000m3). Construction will be carried out at MHI's Nagasaki Shipyard & Machinery Works based on the order receipt from MI LNG.

The Sayaendo features four Moss spherical tanks protected by a peapod-shaped continuous cover integrated with the ship's hull, developed by MHI with the support of Aker Arctic Technology Inc. This innovative configuration enables a reduction in weight while maintaining the ship's overall structural rigidity, and also significantly reduces air resistance during navigation. For its main power plant the Sayaendo adopts MHI's "Ultra Steam Turbine Plant" (UST), a turbine that provides higher thermal efficiency through effective use of thermal energy by reheating steam. Fuel efficiency can be improved by more than 20% compared to conventional ships.

The adoption of a continuous tank cover eliminates the need for overhead supporting structures for piping, wiring and catwalks, and also greatly improves maintenance ease. In addition, enhanced fuel efficiency contributes to lower carbon dioxide (CO2) emissions and the adoption of a ballast water treatment system lessens impact on marine ecosystems, thus addressing environmental issues more effectively.

MI LNG specializes in the design and marketing of LNG carriers. It is the first company in Japan to put in place a structure enabling response to large-scale project negotiations involving constructions of new LNG carriers, which are currently in an expanding trend fueled by rising global demand for LNG. MI LNG benefits from a combination of MHI's capabilities in technology development and Imabari Shipbuilding's cost-competitiveness, and MHI and Imabari Shipbuilding's shipyards combined have the capacity to construct more than eight ships per year. Besides the Sayaendo, these shipyards can accommodate a wide range of ship types, from standard spherical tank cover Moss vessels to membrane-type ships.

Orders for the Sayaendo have been received at a steady pace ever since the first order - simultaneously for two units – was received in October 2011. Owing to its outstanding energy efficiency and environmentally compatible performance, the Sayaendo is emerging as a leading product among "eco-ships" - ships now the focus of active development and adoption trends in the shipbuilding and marine transport industries.

Leveraging this first order received through MI LNG, MHI will work closely with Imabari Shipbuilding in proactively seeking expanded orders for LNG carriers going forward.
---
About MHI Group
Mitsubishi Heavy Industries (MHI) Group is one of the world's leading industrial groups, spanning energy, smart infrastructure, industrial machinery, aerospace and defense. MHI Group combines cutting-edge technology with deep experience to deliver innovative, integrated solutions that help to realize a carbon neutral world, improve the quality of life and ensure a safer world. For more information, please visit www.mhi.com or follow our insights and stories on spectra.mhi.com.