MHI Starts Shipments of Factory-made Tanks for Storing Contaminated Water at Fukushima Daiichi Nuclear Power Station
Tokyo, April 10, 2014 - Mitsubishi Heavy Industries, Ltd. (MHI) has commenced shipments of tanks for storing contaminated water at the Fukushima Daiichi Nuclear Power Station, operated by Tokyo Electric Power Company, Incorporated (TEPCO), from the Futami Plant of its Kobe Shipyard & Machinery Works in Akashi City (Hyogo Prefecture). Plans call for shipments of a total of 10 units, the first factory-made storage tanks for use at Fukushima, by the end of May.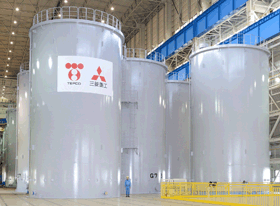 The tanks being delivered to Fukushima are vertical tanks made of welded carbon steel. They measure 8.1 meters (m) in diameter, 15.6m in height and 16 millimeters (mm) in thickness, with a storage capacity of 700 cubic meters (m3). Presently TEPCO is undertaking a shift in storage of contaminated water at the Fukushima site from the current flange and horizontal type tanks to higher-quality vertical tanks of welded construction, and the new units being delivered by MHI are part of that replacement and expansion program.

In fabricating the new tanks, MHI was called on to manufacture units of outstanding sealing performance and robust strength within a short turnaround time. The company responded by assigning its most skilled workers to create factory-completed tanks incorporating MHI's abundant experience in welding and processing technologies. The result was the completion, in a short time, of a product offering the stability and high quality required for use in storing radioactive contaminated water.

The tank shipped from the Futami Plant is to be transported by sea to the Fukushima site. Installation will be performed by MHI.

As the next step after production of the initial 10 tanks already on order, MHI is in the process of manufacturing even larger vertical storage tanks, with capacities of 1,000m3, at its Kobe Main and Futami plants. Plans call for shipments of the large tanks to get under way in June.

Going forward MHI will continue to provide its full support to addressing the contaminated water problem and other issues awaiting resolution at the Fukushima Daiichi Nuclear Power Station, applying its technologies and expertise accumulated through its business in nuclear power generation field.
---