MHI Shipments of Large-size Machine Tools Reach 3,000-Unit Landmark
-- Wide Range of Products Supporting Social and Industrial Development Winning Solid Reputation in Both Domestic and Global Markets --
Tokyo, March 6, 2014 - Mitsubishi Heavy Industries, Ltd. (MHI) has completed the shipment of an "MAF180C" horizontal boring mill to Formosa Heavy Industries Corporation, one of Taiwan's leading machinery manufacturers, from its Machine Tool Main Plant in Ritto, Shiga Prefecture, bringing the company's total number of large-size machine tool shipments to date to 3,000 units. The landmark shipment comes some 53 years after MHI launched production of its first large-size machine tool, the Mitsubishi-Innocenti CWB milling-and-boring combined machine, in 1960. Its achievement is attributable to the company's long record of deliveries of a host of market-leading machines that support social and industrial development.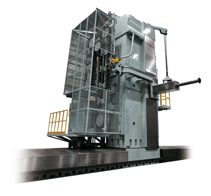 MHI today enjoys a solid reputation in both the domestic and global markets for its wide range of large-size machine tools - including abundant lineups of both horizontal boring mills and double column -type machining centers - and for its product technologies addressing diverse customer needs. Going forward, the company will continue to undertake aggressive business developments in this segment in its quest to become the world's top manufacturer of large-size machine tools.

Through the years MHI has consistently been a leader in technological innovation in the machining of large-size workpieces, thereby supporting the production of industrial machinery, construction machinery, power generation systems, aircraft, steel structures, etc. In 1960 the Mitsubishi-Innocenti CWB milling-and-boring combined machine was launched as one of Japan's first large-size machine tools; it enabled high-precision machining and outstanding productivity even in the machining of extraordinarily large-size workpieces. In 1967 the company finished development of the country's first numerically controlled (NC) horizontal boring mill. In 1986 MHI completed the "Super Miller," one of the world's largest multi-functional NC boring mills, featuring a gantry width of 13 meters and weighing 1,300 tons.

Meriting special mention is the company's "MVR Series" of double-column, 5-face milling machines, which has achieved shipments totaling close to 1,000 units since its launch in 2003. Machines in the series carry on the gantry-type technologies developed in 1969 for machining workpieces of exceptional size and length, and also incorporate ongoing improvements to accommodate diversified machining tasks and user needs. Together these strengths have resulted in adoption of MVR Series machines on numerous production lines, enabling the series to become a major hit of enduring popularity reflecting users' high expectations of and trust placed in MHI's large-size machine tools. Today the MVR Series accounts for a top share of the domestic market in this segment.

The MAF180C marking the 3,000th shipment of a large-size machine belongs to MHI's MAF-C Series of floor-standing horizontal boring mills launched in 2012. Boasting the highest levels of strength (rigidity), speed and precision in its class, the MAF180C is used mainly for machining parts used in advanced products. Formosa Heavy Industries is a member of the Formosa Plastics Group, Taiwan's largest private corporate group, whose operations broadly encompass petrochemicals, plastics, electronic materials, transportation, medical care, education, etc. The company, a major user of MHI's large-size machine tools, intends to use the new MAF180C in the manufacture of large parts employed in plants of all kinds.

The pace of order placements, both domestic and from abroad, and production of MHI's large-size machine tools has steadily accelerated through the years. The company marked the shipment of its 1,000th unit in 1992, i.e. 32 years after the first shipment in 1960; the 2,000-unit landmark was reached 15 years later, in 2007; and now the 3,000-unit milestone has been attained after only six more years. MHI looks upon the latest achievement as a major feat towards securing the No.1 global market share in large-size machine tools.

Going forward the company intends to continue cultivating the global market for its products through the development of new technologies ahead of their times, accommodation of ever more advanced customer needs, an increasing abundance of machining technologies, and enhanced strength in proposal-oriented sales activities.
---
About MHI Group
Mitsubishi Heavy Industries (MHI) Group is one of the world's leading industrial groups, spanning energy, smart infrastructure, industrial machinery, aerospace and defense. MHI Group combines cutting-edge technology with deep experience to deliver innovative, integrated solutions that help to realize a carbon neutral world, improve the quality of life and ensure a safer world. For more information, please visit www.mhi.com or follow our insights and stories on spectra.mhi.com.