MHI Donates 150 Million Yen, A/C Systems for "Tohoku Rainbow Houses," Facilities under Construction by Ashinaga NPO to Provide Psychological and Emotional Care to Orphans of the Great East Japan Earthquake and Tsunami
Tokyo, March 3, 2014 - Mitsubishi Heavy Industries, Ltd. (MHI) has made a donation in the amount of 150 million yen toward construction of the "Tohoku Rainbow Houses," a trio of facilities being built by Ashinaga, a nonprofit organization (NPO), to provide psychological and emotional care to children who lost parents in the Great East Japan Earthquake and tsunami disaster of March 2011. MHI will also donate air-conditioning (A/C) systems for the facilities. The decision to render these donations to the Tohoku Rainbow Houses project was made in line with the company's CSR (corporate social responsibility) Action Plan, as part of MHI's ongoing Groupwide activities in support of recovery in the disaster region.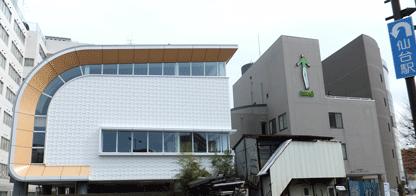 Three Tohoku Rainbow Houses are being constructed: a main facility situated in the city of Sendai in Miyagi Prefecture, and two satellite facilities in the same prefecture's Ishinomaki City and in Rikuzentakata City in Iwate Prefecture. A ceremony marking the completion of the main facility was held on March 1. Construction of the two satellite facilities is proceeding toward completion of the Ishinomaki facility on March 25 and the Rikuzentakata facility this June.

The Tohoku Rainbow Houses are being created with two core aims: to provide psychological and emotional care to the more than 2,000 children who lost their parents to the catastrophe, and to train facilitators who provide such care. Each house is to be equipped with lodging facilities including a dining room and bathing facilities, a multipurpose hall that can serve as a gymnasium, relaxation rooms, management facilities, transport vehicles, etc. Together, the three houses will serve the needs of children living in a broad geographic area.

Psychological and emotional care for orphans of disasters is said to be most effective the earlier it begins, but in the case of the Tohoku calamity construction has been prone to delays owing largely to shortages and soaring costs of construction materials. To offset these delays, MHI decided to lend its support through provision of 22 of the company's multi-split air conditioners used in building applications, 7 residential type A/C units and optional equipment.

Ashinaga is a nonprofit organization launched in 1988 to lend support, both in Japan and overseas, to children who have lost their parents to illness, disaster, suicide, accident, etc. or who come from families where one or both parents are deceased or suffer from serious handicap. The organization takes its name from the novel "Daddy-Long-Legs" by the American writer Jean Webster. Ashinaga provided substantial support and assistance to children who lost parents in the Great Hanshin Earthquake of January 1995.

MHI and its Group companies will continue to provide robust support to help the Tohoku region achieve full recovery and further development in the years ahead.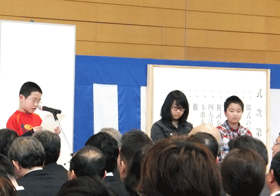 [Greeting by orphans' representative]
---
About MHI Group
Mitsubishi Heavy Industries (MHI) Group is one of the world's leading industrial groups, spanning energy, smart infrastructure, industrial machinery, aerospace and defense. MHI Group combines cutting-edge technology with deep experience to deliver innovative, integrated solutions that help to realize a carbon neutral world, improve the quality of life and ensure a safer world. For more information, please visit www.mhi.com or follow our insights and stories on spectra.mhi.com.