MHI "Ene-Conductor" Heat Source Control System Wins "Minister' Prize, the Ministry of Economy, Trade and Industry" in Energy Conservation Center Contest
Tokyo, January 30, 2014 - The "Ene-Conductor" heat source control system developed by Mitsubishi Heavy Industries, Ltd. (MHI) was awarded the " Minister's Prize, the Ministry of Economy, Trade and Industry" for electricity conservation in the product and business model category, in the "Grand Prize for Excellence in Energy Efficiency and Conservation" contest sponsored by the Energy Conservation Center, Japan (ECCJ). The awards ceremony was held on February 29 in Tokyo. The prize was bestowed in recognition of the Ene-Conductor's optimal control technology, which leverages MHI's expertise as a chiller manufacturer to achieve significant energy conservation and CO2 emission reductions in air-conditioning systems.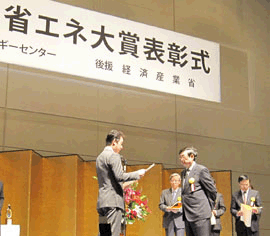 The Ene-Conductor enables integrated control of centrifugal chillers and peripheral equipment such as chilled water and cooling water pumps and cooling towers. The system is capable of controlling multiple units, and can regulate chilled water and cooling water variable flow rate, cooling water temperature, and other operating parameters. It can also maximize overall system performance by optimizing individual chiller loads based on monitored data.

MHI's centrifugal chillers achieve the world's highest level of efficiency and energy conservation by using advanced inverter technology to precisely control rotational speed. In pursuing further energy conservation, however, it has become necessary to optimize the efficiency of air-conditioning systems comprised of multiple cooling units. The Ene-Conductor is MHI's response to this challenge, and because it is able to precisely control complex multi-unit systems, it reduces heat-source equipment electricity consumption by about 65% in comparison to MHI cooling units of 15 years ago.

The Grand Prize for Excellence in Energy Efficiency and Conservation contest is supported by the Japanese Ministry of Economy, Trade and Industry, and has been held since 1990 to spread energy conservation awareness and to promote increased use of energy-saving products. Contest awards are presented in recognition of activities, products, and business models which have achieved excellent energy conservation.

Encouraged by its receipt of the award, MHI will continue to develop advanced energy conservation technologies and products that contribute to the mitigation of energy issues and the problem of global warming.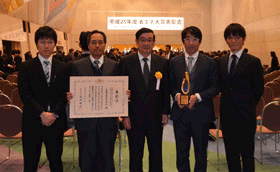 [MHI staff members attended the ceremony]
---
About MHI Group
Mitsubishi Heavy Industries (MHI) Group is one of the world's leading industrial groups, spanning energy, smart infrastructure, industrial machinery, aerospace and defense. MHI Group combines cutting-edge technology with deep experience to deliver innovative, integrated solutions that help to realize a carbon neutral world, improve the quality of life and ensure a safer world. For more information, please visit www.mhi.com or follow our insights and stories on spectra.mhi.com.