MHI Develops "GART Series" of Large-size Centrifugal Chillers Featuring the World's Highest Energy Efficiency: COP of 7.0
Tokyo, January 23, 2014 - Mitsubishi Heavy Industries, Ltd .(MHI) has developed a new series of large-size centrifugal chillers, known as the "GART Series", featuring the world's highest level of energy efficiency: a COP1 rating of 7.0. The new series also stands out for saving approximately 30% installation space than current AART models. The launch of the new GART series will commence in February 2014 with the support of marketing initiatives.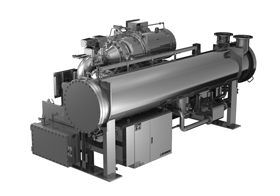 The GART Series spans from medium-volume models to larger models that are favored overseas, especially in Southeast Asia and the Middle East, which feature refrigeration capacities ranging from 500 to 5,400 refrigeration tons (RT)2.

In addition to the GART Series of constant-speed systems, a "GART-I Series" of variable-speed type models will also be launched simultaneously. Models in the GART-I Series likewise feature the world's highest energy efficiency ratings: a maximum part load COP of 25.3 and an IPLV3 of 11.0.

Compared to models introduced 15 years ago -the standard reference for replacing a centrifugal chiller- annual power costs are reduced by approximately 68%4, contributing to reductions in both running costs and carbon dioxide (CO2) emissions.

In a quest for enhanced refrigerating efficiency and higher environmental performance, all new models incorporate improved evaporators and condensers as well as newly shaped compressor impellers. In addition, the adoption of a two-stage-compression/one-stage-expansion economizer sub-cooler cycle enhances tracking of load fluctuations. To achieve more compact dimensions, chiller components are arranged in a way to make full use of vertical space. The compressors, evaporators and condensers have been reduced in size; and a plate type heat exchanger has been adopted in the economizer. These changes together have enabled more compact chillers and enhanced their installation flexibility.

MHI is Japan's leading manufacturer of centrifugal chillers, with numerous deliveries to date for use in air-conditioning of plants, offices, commercial buildings and district cooling systems. The company has received orders for more than 2,500 units of centrifugal chillers employing HFC-134a refrigerant, and the systems have been widely acclaimed overseas.

The new compact high energy efficient GART and GART-I Series models will allow MHI to satisfy more diverse requests and will strengthen MHI's competitiveness in the domestic and global markets.

 Notes:
1 Coefficient of performance (COP): the ratio of a system's useful energy output versus the
   system's energy input. The higher a system's COP is, the higher the energy-saving efficiency
   is overall. In the case of refrigeration systems, COP = rated cooling capacity (kW) / electricity
   consumption (kw). The cited value was calculated based on Air-Conditioning, Heating and
   Refrigeration Institute (AHRI).
2 Capacity to exceed 2,700 RT will be accommodated by using two compressors in parallel
3 Integrated part load value (IPLV): the efficiency of air-conditioners under a variety of conditions:
   several partial operational load ratios and cooling water temperatures similar to those in actual
   usage, to reflect seasonal changes in operational conditions. As with COP, the higher the IPLV
   rating the higher the energy-saving efficiency is. The cited value was calculated based on AHRI .
4  Electricity consumption comparison between GART-I models and ART models at 1,350 RT
    (1748kW) by same operation condition. (ART models was launched 15 years ago)
---