MHI to Launch Latest ETC Unit Model "MOBE-700"
-- New Model Features Stylish New Design and Numerous Improvements For Enhanced Ease of Usage --
Tokyo, December 25, 2013 - On January 8 Mitsubishi Heavy Industries, Ltd. (MHI) will commence marketing of the "MOBE-700," a new model in its lineup of onboard equipment (OBE) for electronic toll collection (ETC) systems in Japan. The MOBE-700, which features a separate antenna, is a successor to the MOBE-600 introduced in August 2011. The MOBE-600 has been highly popular as the industry's only product of its kind employing light-emitting diodes (LED) for card slot line-illumination. The new MOBE-700 not only retains that feature but also incorporates further improvements for enhanced operating ease, including placement of all operating buttons on the front panel to enable installation in a wide range of locations.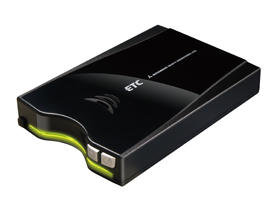 The MOBE-700 has three main features. First, like the preceding MOBE-600, the card slot is "line-illuminated" to enable quick visual confirmation of the card slot position and the ETC OBE's operating status even in darkness without interior illumination. Second, the operating buttons are placed to the upper right above the card slot, which makes installation possible to various places in the vehicle, including discreet area or underfoot of the driver's seat. Third, the MOBE-700 is elegantly designed with a wavy line pattern that adds a touch of class to any vehicle interior.

The main unit is of compact dimensions: 70 millimeters (mm) in width, 105mm in height and 17mm in depth. It is available in a choice of two colors: standard black or navy blue, MHI's corporate color.

Among a host of other features, the MOBE-700 adopts an antenna with built-in LED that can be attached to the windshield or dashboard without any special attachments. It also features voice guidance (in Japanese), notification by melody, card withdraw omit prevention warning (ON/OFF switchable), usage record confirmation, cumulative amount notification, etc. The unit can also be linked to the vehicle's GPS system for added convenience.

As of end-November, the number of new ETC OBE setups in Japan has reached 44 million units. The average utilization rates on Japanese highways is over 80%, and continual demand, including replacement demand, is expected. MHI will continue to add new core models to its lineup to respond ever more precisely to the broad needs of ETC users.
Basic Specifications of the MOBE-700
Model number

MOBE-700

Type

Separate antenna

Outer dimensions

Main unit:W70×D105×H17㎜
Antenna:W32.4×D32.4×H12.5㎜
Antenna cable:3,500㎜

Input voltage

DC 12V/24V

Ambient temperature range

-30°C to +85°C

Card holder

Completely encased(inject type)

Antenna specifications

Built-in LED/onboard installation
(no attachment needed)

Voice guidance (Japanese)

Provided

Notification by melody

Provided

Buzzer warning

Provided

Forgotten card warning

Provided (buzzer, ON/OFF switchable)

ETC card validity date guidance

Provided (ON/OFF switchable)

Cumulative amount notification

Provided (reset function provided)

Usage record notification

Provided

Linkage with vehicle GPS

Provided (GPS units made by Clarion)

Color variations

MOBE-700B  black 
          MOBE-700N  navy blue
Products Page
---
About MHI Group
Mitsubishi Heavy Industries (MHI) Group is one of the world's leading industrial groups, spanning energy, smart infrastructure, industrial machinery, aerospace and defense. MHI Group combines cutting-edge technology with deep experience to deliver innovative, integrated solutions that help to realize a carbon neutral world, improve the quality of life and ensure a safer world. For more information, please visit www.mhi.com or follow our insights and stories on spectra.mhi.com.